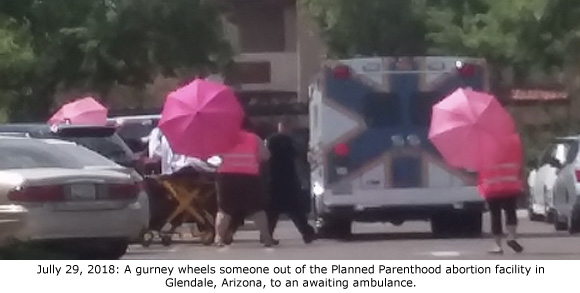 By Cheryl Sullenger
Glendale, AZ – While Planned Parenthood escorts waved bright pink umbrellas, someone who appeared to be a patient covered in a white sheet on a gurney was wheeled out of the Planned Parenthood abortion facility in Glendale, Arizona, and loaded into an ambulance.
The incident, which took place on July 29, 2018. The ambulance presumably transported the patient to a hospital for emergency care.
Earlier this year the Glendale Planned Parenthood facility added surgical abortions to their list of "services" that also includes chemical abortions.
"We expect to see more ambulances at this facility now that surgical abortions have been added," said Troy Newman, President of Operation Rescue. "That's not to say that Planned Parenthood's chemical abortion patients never suffered complications. It's just that women experience those at home and not at the abortion facility where they can be more easily documented."
For every abortion-related medical emergency documented by Operation Rescue, there are many, many more that go unnoticed and unreported to anyone. The number of women injured by abortion in the U.S. each year remains completely unknown.
Operation Rescue is working to find out more about the Glendale Planned Parenthood incident and will post updates as necessary.