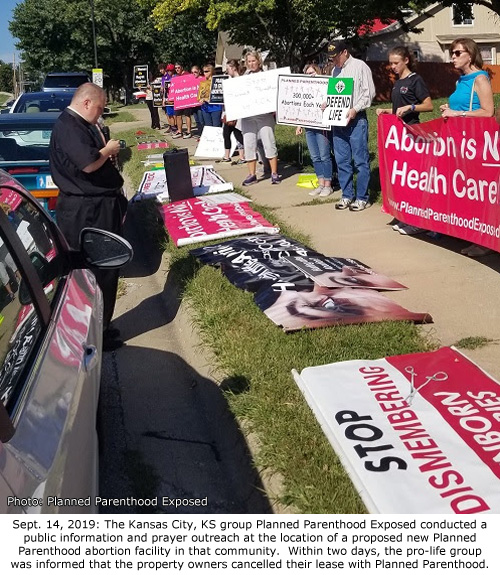 By Cheryl Sullenger
Kansas City, Kansas – When a Kansas pro-life group got wind that Planned Parenthood Great Plains was attempting to open a new surgical abortion facility in Kansas City, Kansas, they jumped into action.
Ron Kelsey, board president of Planned Parenthood Exposed, uncovered documentation that Planned Parenthood had signed a lease at 1854 Minnesota Avenue, just yards from a local high school.
Kelsey also found out that Planned Parenthood was trying to keep their new clinic location a secret.
"I was at a public meeting last Tuesday that PP held at the KCK public library at 6th and Minnesota," Kelsey stated in an e-mailed copy of a letter to Larkin & Garcia, owners of the office building that would have soon housed a new Planned Parenthood clinic. "An attendee at that meeting stated that she had heard that PP was opening a location in KCK. The PP presenter responded that they were planning on opening a location within two miles of downtown KCK, but that PP would not discuss this further at this time. PP is also advertising for positions in KCK."
Operation Rescue confirmed that Planned Parenthood Great Plains has in fact posted job openings in Wyandotte County, Kansas, where the new proposed facility is located. Also confirmed is the fact that there is no current Planned Parenthood facility in Wyandotte County.
Kelsey's group conducted a public information and prayer campaign on the street at the Minnesota Avenue building on September 14, 2019.  This exposed Planned Parenthood's intention of opening an abortion facility at that location, which is a heavily residential neighborhood.
Soon after, Kelsey heard from Larkin & Garcia, who also operate a funeral home across from the office building.
The property owners informed Kelsey that they were cancelling their lease with Planned Parenthood. They promised they "will not be leasing or selling the building to PP or anyone similar now or never."
They also pledged that if they ever sell the property, they will place a restriction on the deed to ensure that no abortion business ever occupies the building.
"This is a great victory for Kansas pro-life supporters, and for the community. Planned Parenthood Exposed did a tremendous job blocking this Planned Parenthood facility opening in a location where they could target teens at a nearby high school," said Operation Rescue President Troy Newman. "We appreciate Larkin & Garcia for making the tough decision that will actually benefit the neighborhood. Abortion businesses create many problems for nearby residents and businesses, who are likely all relieved that the lease with Planned Parenthood has been canceled."
But Kelsey isn't letting down his guard.  It is likely that Planned Parenthood will seek to open in a different location. He plans for his group to keep reaching out to local government officials with the message that Kansas City does not want a Planned Parenthood abortion facility in their community.
Currently, there are four abortion facilities in Kansas. Comprehensive Health of Planned Parenthood, which serves as headquarters for Planned Parenthood Great Plains, and the family-owned Center for Women's Health are both located in Overland Park in the northeast corner of the state. Trust Women, an independent surgical abortion facility, and a small run-down Planned Parenthood office that distributed abortion pills, are located in the south central Kansas community of Wichita.