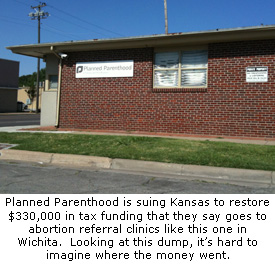 Topeka, KS – Planned Parenthood of Kansas and Mid-Missouri has filed suit against the state of Kansas to restore $330,000 in funding that had been re-allocated to reputable health care centers. Planned Parenthood faces 107 criminal charges – including 23 felonies – related to illegal late-term abortions and the manufacturing of evidence to cover up the crimes.
The new law signed by Gov. Sam Brownback in May reprioritizes how the tax money is allocated, putting organizations that supply abortions at the bottom of the list.
While Planned Parenthood claims that the funding goes to their Wichita and Hays clinics that do not do abortions, these clinics are known to be abortion referral clinics, or "feeder clinics", that draw in potential abortion customers then schedules them for abortions at Planned Parenthood's Overland Park abortion mill.
"To say that the feeder clinics don't have anything to do with abortions is an outrageous misrepresentation of the truth," said Operation Rescue President Troy Newman. "The Wichita and Hays clinics actually solicit abortion business for their Overland Park counterpart and serve as partners in the abortion business. Blocking funding to them is consistent with the federal law against spending tax money for abortions."
There is question as to whether Planned Parenthood will be able to continue doing abortions legally after July 1. Spokespersons for Planned Parenthood told reporters that the abortion clinic passed a recent inspection under another new Kansas law that provides minimum health and safety standards for abortion clinics. However, the Kansas Department of Health and Environment has been mum on whether or not it has qualified to receive a license.
Meanwhile, Planned Parenthood's Overland Park clinic will be in court on July 15 for motions in the massive 107 count criminal case against the abortion giant. The case has dragged on since 2007 and was blocked by the previous administration, which sought to protect Planned Parenthood from prosecution. The case is now moving forward.
"Just the fact that Planned Parenthood faces so many criminal charges is enough reason to stop propping them up with our tax-dollars," said Newman. "It's like giving tax-money to prop up Al Capone."
Read timeline in the Planned Parenthood criminal case.