By Sarah Neely
Planned Parenthood Chapel Hill, which has already sent four women to the hospital this year, recently required yet another ambulance transport for a patient.
Advocates on the sidewalk sighted the ambulance on Thursday, October 19, around 5:15 p.m. Thanks to the vigilance of these deeply concerned citizens, Operation Rescue was able to obtain the public 911 records shortly after.
According to the 911 call, a 25-year-old woman "developed some hives" just before discharge. The caller said they treated the allergic reaction, but the woman continued to have very low blood pressure and hives all over her body – both indicators of the most severe form of an allergic reaction known as "anaphylaxis."
When asked by the 911 operator if the patient was experiencing any shock symptoms, the caller responded that the woman's pulse was 144 and her blood pressure was 85/57.
Any reading below 90/60 is considered low blood pressure. According to the Mayo Clinic, the body releases "a flood of chemicals" during anaphylaxis that can induce shock. The "blood pressure drops suddenly and the airways narrow, blocking breathing." If not treated right away, anaphylaxis can quickly become fatal.
This possible diagnosis was affirmed in the public radio communications between the dispatcher and Emergency Medical Services (EMS), which Operation Rescue also obtained:
Dispatch: Probably gonna be anaphylaxis. They're advising that she's got hives all over her as well as a low BP.
There is no way to know precisely what caused this allergic reaction, however, medications are a common trigger for anaphylaxis. Also, anaphylaxis can develop within seconds, so it was likely caused by something administered in the clinic, possibly the first pill in a medication abortion or another drug used in a surgical abortion.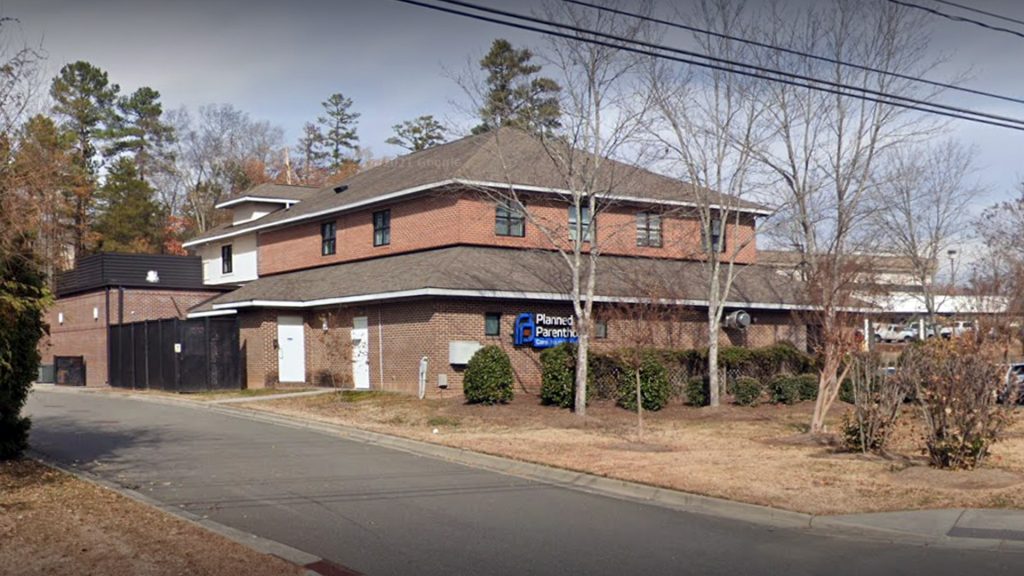 Planned Parenthood Chapel Hill aborts babies up to 11 weeks using chemical abortion drugs and up to 12.9 weeks utilizing surgical methods.
Prior to North Carolina's 12-week ban enacted over the summer, this clinic boasted about specializing in difficult,
second-trimester abortions. That "specialization" sent four hemorrhaging women to the hospital earlier this year.
During previous 911 calls from this facility, the staff requested ambulances refrain from using lights or sirens – even when women were bleeding so severely they needed life-saving care. Nothing has changed at this shoddy abortion business.
With a woman sitting right before them, covered in hives and exhibiting shock symptoms that could have blocked her airway at any moment, the caller asked 911 dispatch, "Can we ask them to turn off the sirens when they come around?"
The dispatcher responded, "We can let them know, but it is up to them."
It seems EMS chose to use the sirens.
After EMS dispatch advised that this was likely a case of anaphylaxis, the paramedics on board the ambulance said over the radio, "We saw the notes about silent approach, but just know we're gonna go ahead and respond emergent."
Dispatch responded, "Copy. I would too."
Unlike the staff of Planned Parenthood, EMS cared enough about the woman to utilize emergency transport methods that would strengthen the possibility of saving a patient in a life-threatening situation.
Citizens have submitted numerous complaints about this clinic to the North Carolina Department of Health and Human Services. With a coalition of other national groups, including Operation Rescue and CEC For Life, citizens have also contacted state officials. No significant response has been received from any state department so far. And, despite citizens being told months ago that an investigation was ongoing, DHHS has indicated no further movement, and no new inspections for this clinic have been posted since June 2022 – more than a year ago.
"North Carolina did well to limit abortion in the state and create new commonsense safety regulations that supposedly went into effect this summer," said Troy Newman, President of Operation Rescue. "However, laws are only as strong as the willingness to enforce them. From what we've seen, North Carolina state officials did not show any inclination toward holding abortion clinics accountable before these new laws passed, and they have shown even less interest afterward. While these state officials stand by, including a pro-life Lt. Governor, Planned Parenthood is happy to let women pay the price for their negligence again, and again, and again."
Operation Rescue will continue working with CEC For Life, Life Legal Defense Foundation, and the faithful sidewalk advocates in Chapel Hill to get these investigations moving.
You Can Help Operation Rescue Expose the Abortion Cartel by:
Sharing reports like this one on social media (click logos below to find us on GETTR, gab, and Truth Social)