By Cheryl Sullenger
Washington, DC – A Los Angeles judge dissolved an injunction Friday against the Center for Medical Progress that had blocked the release of footage of an interview with a StemExpress executive who was harvesting the remains of aborted babies.
Within hours of the decision, the CMP released a two-minute trailer showing a clip of StemExpress CEO Cate Dyer laughing about sending intact fetuses to her lab employees. That trailer was the eighth video released by the CMP that showed Planned Parenthood profiting from the sale of fetal organs and parts.
"Oh yeah, if you had intact cases, which we've done a lot, we sometimes ship those back to our lab in its entirety," Dryer said. "Tell the lab it's coming! They'll open the box and 'Oh, my God!'"
Dyer then is seen laughing heartily at the prospect of her lab employees being shocked by an intact body of an aborted child.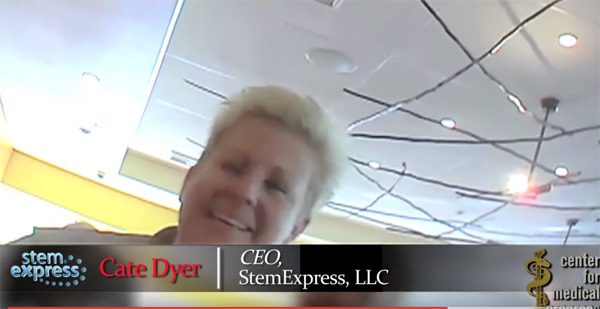 "The callous, cavalier attitude toward of Dryer and other Planned Parenthood employees toward the brutal killing of aborted babies – some apparently with their hearts still beating – is shocking, sociopathic behavior. It's as if their consciences have been switched off, just like we see in serial killers," said Newman. "The CMP videos have shown us like never before that world of abortion and fetal tissue harvesting is a depraved one."
Intact aborted babies cannot be given drugs that produce fetal demise before the dismemberment or extraction process begins. The fact that Dyer admits that her company gets intact remains "a lot" indicates there is a likelihood that "a lot" of babies are being aborted alive.
Last week's longer video, Episode 3 of the Human Capital documentary series, supported that concern.
Holly O'Donnell related an experience at Planned Parenthood in San Jose where a baby boy was born "mostly intact" and that she observed his heart beating. She was then ordered by another StemExpress employee to cut through the baby's face and harvest his brain.
The videos sparked a nationwide protest on Saturday at 342 Planned Parenthood locations. Those protests featured huge crowds of pro-life supporters, including an estimated group of 4,000 in St. Paul, Minnesota, and over 1,000 in several cities such as Tempe, Arizona, Charlotte, North Carolina, and Cincinnati, Ohio. Several locations reported babies saved from abortion as the result of the protests. In Los Angeles, Kristina Garza of Hispanics for Life reported that a security guard quit his job at Planned Parenthood after speaking with pro-life protesters.
In Michigan, pro-abortion Satanists turned out to two protests and conducted Satanic rituals on the sidewalk. Women involved appeared to be in pain as others poured milk on them as pro-life protesters stood by praying.
Operation Rescue was one of the numerous sponsors for the event. With sites still reporting in, total attendance is expected to exceed 70,000 participants.

In Wichita, Troy Newman, President of Operation Rescue and Board member for the Center for Medical Progress, released a short video encouraging protesters that Planned Parenthood is in crisis mode and losing support as the result of the videos.
It is illegal to sell human fetal remains for profit, and it is also illegal to alter an abortion process in order to ensure that body parts are available for "donation" or sale.
So far, the CMP video exposés have each gone viral with millions of total of nearly 8 million views and have sparked defunding efforts at the national and state level, numerous state investigations and a Congressional inquiry. The subject of Planned Parenthood's illegal trafficking in aborted baby remains has even dominated presidential politics with all GOP candidates making statements in support of defunding the abortion giant. Some, such as Texas Rep. Ted Cruz, are pushing for criminal prosecutions of Planned Parenthood executives.
More videos are expected to be released in the coming days and weeks.