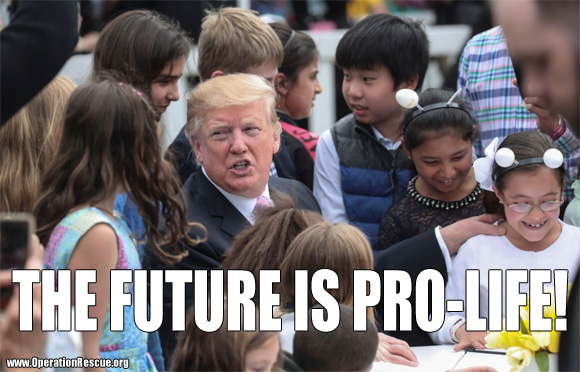 By Cheryl Sullenger
Washington, DC – Planned Parenthood announced on Monday that it has withdrawn from the Title X federal family planning program.
This represents a substantial victory for pro-life groups, including Operation Rescue, which worked to assist the Department of Health and Human Services in changing the Title X rules to reflect the Trump Administration's policy of protecting life, beginning at conception. That rules change is known as the Protect Life Rule.
Last month, the Ninth Circuit Court of Appeals cleared the way for implementation of the Protect Life Rule, which prohibits Title X money from going to clinics that conduct or refer for abortions.
Planned Parenthood asked the court to reconsider and enjoin the Protect Life Rule, but it declined to do so on Friday, August 16, 2019. That prompted Planned Parenthood to forgo approximately $60 million in federal funding in favor of continuing abortion referrals at its facilities that do not conduct abortions.
"President Trump promised that he would defund Planned Parenthood, and he has kept his promise to the extent he is able without the help of Congress. We are very grateful to him for standing strongly for life," said Troy Newman, President of Operation Rescue. "This victory was a long time in coming, and we expect Planned Parenthood to undergo continued reorganization to make up for the lost funding. That will likely include closing unprofitable clinics that have been thus far subsidized by unwilling American taxpayers."
Planned Parenthood organizations are usually set up to include several referral clinics and only a few abortion facilities. The referral clinics rarely make money on their own, but contribute to Planned Parenthood's bottom line by acting as dragnets for abortion customers who are sent to the Planned Parenthood abortion facilities, where fees for abortion services are collected.
"We have to wait to see the full extent of the impact this will have on Planned Parenthood, especially since states like Maryland and Colorado, among others, have pledged to replace the federal Title X payments to Planned Parenthood with tax money from state coffers," said Newman. "But this is a huge step in the right direction toward completely cutting Planned Parenthood off from the public dole. But Planned Parenthood has committed to regaining the political clout it had during previous administrations, and we expect it to expend substantial resources in 2020 to elect Democrat politicians that will fight to restore its funding. Therefore, President Trump's re-election will be a top priority for us."