By Cheryl Sullenger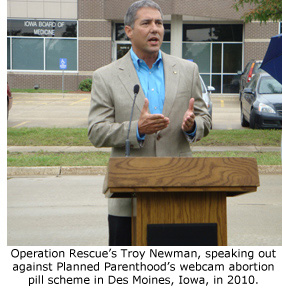 Des Moines, IA – Iowa Right to Life is reporting and Operation Rescue has confirmed that Planned Parenthood of the Heartland has halted webcam abortions at their Cedar Rapids facility.
This represents the tenth Planned Parenthood webcam abortion facility that has stopped using the controversial abortion pill distribution scheme since 2012.
Operation Rescue has worked with Iowa pro-life groups, including Iowa Right to Life, to end webcam abortions.
"We are excited to see the dangerous process of dishing out abortion pills over an internet connection coming to an end," said Troy Newman, President of Operation Rescue. "This represents a huge victory for those who support life and worked so hard to protect women from Planned Parenthood's attempt to put profit above the lives and safety of women."
Operation Rescue brought the webcam abortions to light after an undercover investigation in March, 2010, then exposed plans by Planned Parenthood Federation of America to expand the scheme into every one of their clinics nationwide, ironically during a protest of a Planned Parenthood fundraiser in Cedar Rapids. This would have represented the largest expansion of abortion since Roe v. Wade.
Webcam abortions reduced costs to Planned Parenthood since one abortionist could sit at a computer console and remotely dispense abortion drugs to women in offices all over the state without providing in-person exams or being available for follow up in the event of complications.
However, once information about the risky webcam abortion process spread, several states acted quickly to ban the remote distribution of abortion drugs outside the presence of a physician. Seventeen states now ban the webcam abortions. This effectively thwarted Planned Parenthood's effort to make every one of their offices an abortion pill distribution center.
Nine of fourteen remaining Planned Parenthood facilities in Iowa still offer abortions. Just two years ago, the abortion business operated 26 offices in Iowa.
But now, even the few webcam abortion locations that remain may not be open for long.
An Iowa judge is considering whether to ban webcam abortions altogether in that state. The Iowa Board of Medicine voted last year to change regulations to halt the procedure for safety reasons, but Planned Parenthood sued to challenge the rules. A decision from the court is expected soon.
"If the judge rules to uphold the Iowa Board of Medicine regulations banning webcam abortions, it will spell out the final end to this appallingly substandard abortion process that preys on and exploits vulnerable pregnant women. That will be a sweet victory indeed for all who value and cherish life," said Newman.