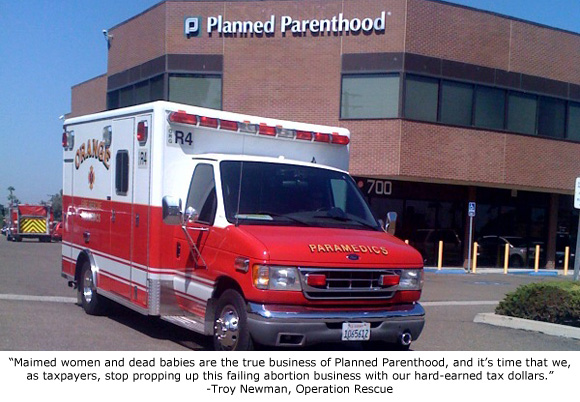 By Cheryl Sullenger
Sacramento, CA — New documents obtained by Operation Rescue reveal Planned Parenthood's attempt to use the State of California as a tool to challenge any potential defunding in the current efforts to repeal and replace Obamacare.
Operation Rescue received the records from the Office of the California Attorney General as the result of a public records request.
On March 17, 2017, Celinda Vazquez, Vice President of Public Affairs for Planned Parenthood Los Angeles, sent an e-mail marked "High" importance to Attorney General Xavier Bacerra, that included a letter from Planned Parenthood Affiliates of California requesting a meeting to discuss "potential litigation in the event of defunding Planned Parenthood."
The letter, signed by Kathy Kneer, President and CEO of Planned Parenthood Affiliates of California, and Vazquez seemed to summon Bacerra to a meeting. The letter stated:
We write to request a meeting to discuss the potential litigation in the event of defunding Planned Parenthood and the repeal of the American Health Care Act, including the prohibition on abortion coverage.
The eight Planned Parenthood affiliate CEOs from across the state would be included in this meeting.
For scheduling purposes, please contact Lauren Jeglinski at [email address].
Thank you for your attention to this important matter.
"This letter did not seem to give Bacerra much of a choice on whether he would attend the meeting. It is obvious that Planned Parenthood is the one really running the State of California," said Troy Newman, President of Operation Rescue. "It is clear that Planned Parenthood is desperately attempting to preserve their tax funding in any way possible, especially their abortion funding through Medicaid reimbursements, which is a huge cash cow for them."
Perhaps not coincidently, California's treasurer announced on June 17, 2017, that Planned Parenthood Affiliates of California would receive a $20 million grant in light of Congressional efforts to defund Planned Parenthood.
"Any lawsuit brought by California against the Congressional defunding of Planned Parenthood is simply political pandering to the abortion cartel without the best interests of the public in mind," said Newman.
In the past 18 months, Operation Rescue has documented 51 medical emergencies requiring emergency treatment and hospitalization at Planned Parenthood affiliates nationwide, including the death of at least one patient, Cree Erwin-Shepard, who died from a botched abortion she received last year from the Planned Parenthood abortion facility in Kalamazoo, Michigan.
"Maimed women and dead babies are the true business of Planned Parenthood, and it time that we, as taxpayers, stop propping up this failing abortion business with our hard-earned tax dollars, which could be of real help to women if redirected to legitimate health providers," said Newman.
Planned Parenthood to CA AG Becerra 3-13-2017 by Cheryl Sullenger on Scribd