By Cheryl Sullenger
Washington, DC – A vote is expected in the U.S. Senate later today on the defunding of Planned Parenthood in the wake of a firestorm of scandal that has plagued Planned Parenthood since the release of four videos by the Center for Medical Progress. Those videos show Planned Parenthood officials engaged in the illegal selling of fetal organs, often using the now banned Partial Birth Abortion procedure.
The effort to defund planned parenthood would abruptly cut off over a half billion tax dollars from the abortion giant and redirect those funds to hundreds of community clinics nationwide, which would actually expand women's access to legitimate medical care.
"One of our goals had been to see Planned Parenthood not only defunded, but brought to justice," said Troy Newman, President of Operation Rescue and board member for the Center for Medical Progress. "When abortion clinics close, lives are saved, and without a half-billion dollars of tax money, Planned Parenthood will be forced to downsize and that means fewer abortions will take place. That is the first step. Meanwhile, we continue to work to see Planned Parenthood held accountable in a court of law."
President Obama is promising to veto this bill, but with prayer and action, anything is possible! Please contact your U.S. Senator now in support of S. 1881.


Hearing on the CMP's NAF videos
Also later today, a hearing is scheduled in San Francisco Federal Court over videos allegedly obtained by the Center for Medical Progress at National Abortion Federation meetings. The NAF sued the CMP, David Daleiden, and Troy Newman, President of Operation Rescue and a board member for the CMP, last Friday.
The judge in this case, William H. Orrick, III, is an Obama appointee who raised at least $200,000 for Obama and donated $30,800 more to Obama-supporting political action committees. His wife, Caroline "Linie" Farrow Orrick, is a radical pro-abortion liberal and supporter of Planned Parenthood.
Judge Orrick should have recused from hearing this case, but instead issued a temporary restraining order without hearing or notice to block the release of the NAF videos over the weekend.
The liberally-biased press is repeatedly mischaracterizing this order as one blocking all Planned Parenthood videos, which is not the case at all. More videos related to Planned Parenthood's selling of aborted baby parts are set to be released soon.
David Daleiden issued this statement concerning the NAF suit:
The National Abortion Federation is a criminal organization that has spent years conspiring with Planned Parenthood on how to violate federal laws on partial-birth abortion and fetal tissue sales. The Center for Medical Progress will contest any attempts to suppress our First Amendment rights to free speech or silence the freedom of the citizen press.
Thankfully, Jay Sekulow and the American Center for Law and Justice has stepped in to defend Newman and Daleiden in this case.
• Read the ACLJ announcement of their representation here.
• Read Newman's press statement about the NAF suit's attempt to silence the truth here.


StemExpress hiding evidence of babies born alive during abortions?
Earlier, a Los Angeles court blocked the release of one alleged video that is said to feature a StemExpress employee. Stem Express is an organ procurement company that has contracted with several Planned Parenthood organizations for the rights to harvest aborted baby tissue and organ in exchange for payment.
David Daleiden was interviewed by CNN last week and made this statement about the StemExpress evidence:
StemExpress is trying to suppress a specific video recording of a meeting with their top leadership where their leadership admitted that they sometimes get fully intact fetuses shipped to their laboratory from the abortion clinics that they work with, and that could be prima facie evidence of born alive infants. So that's why they're trying to suppress that video tape and they are very scared of it.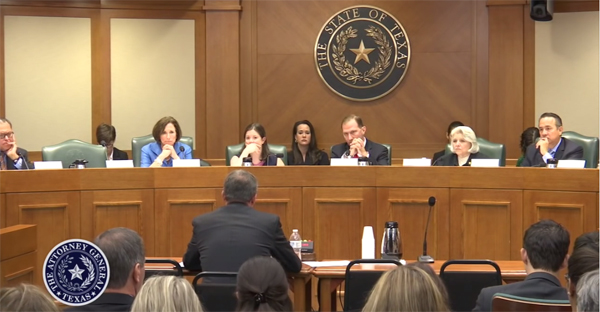 Texas AG testifies to state legislature about "POC Room" at Planned Parenthood
Last week, the Texas Senate Committee on Health and Human Services heard testimony related to the Planned Parenthood baby parts trade scandal. Among those giving testimony was Texas Attorney General Ken Paxton.
Paxton's powerful statement included information about investigators that visited a Houston Planned Parenthood abortion clinic and were shown to the "POC Room," or "Products of Conception" room where fetal body parts are harvested.
Paxton's stated in part:
On this day as my staffers watched, a technician took an aborted child from a jar, rinsed it in a colander, and placed the body parts in a tray. Fingers and toes, exceptionally tiny but fully formed, were clearly visible.
Planned Parenthood employees told investigators that they average 260 pounds of "medical waste," or aborted baby flesh, each week.
• Watch Attorney General Paxton's full statement on video here.


"Sacramental value" to presence at abortion clinics.
In a revealing article published last week by Christianity Today, David Daleiden discusses his undercover investigation of Planned Parenthood and his feelings about being present inside the clinic while abortions and tissue harvesting was taking place.
"I think that when you have a place like an abortion clinic—which is a place where children are killed on an industrial scale—there is almost a sacramental value in bringing a presence to those places. We were there for good, out of love, and to welcome those children for the brief time that they will be in existence before they die. And to be in contact with and pray for all the abortion workers, the abortion doctors who are there," said Daleiden. "As a Christian you are part of the body of Christ. So your presence, even in those darkest of places, can bring the presence of Jesus."


Praying for the Planned Parenthood abortionists
While some of the revelations from the Planned Parenthood videos are shocking and revealing a callous, almost mercenary attitude toward the harvesting and sale of aborted baby remains, it is important to keep in mind that the abortionists involved are human beings that need repentance and forgiveness from Christ.
With that in mind, Sunday, a special mass was offered for the salvation of Planned Parenthood Senior Medical Director Deborah Nucatola. David Daleiden posted photos of the service on his Facebook page.
Please, remember to hold up in pray those involved in the body parts trade in particular and the abortion industry in general. We are all broken and imperfect beings in need of a Savior. Let us do as the Bible teaches and "love our neighbors as ourselves" by praying for repentance and salvation for Planned Parenthood abortionists Deborah Nucatola, Mary Gatter, Savita Ginde, as well as Planned Parenthood CEO Cecile Richards.

Operation Rescue will continue to post updates on breaking developments as they happen.