Brave conservative media resist Planned Parenthood's attempts to supress the Center for Medical Policy videos while liberal news organizations cave to pressure.

Fox News host Bill O'Reilly bravely speaks out on the Planned Parenthood scandal.
By Cheryl Sullenger
Washington, DC – Reports are beginning to surface that Planned Parenthood is attempting to use their influence to bully news organization into suppressing the scandal involving their selling of aborted baby body parts for profit.
So far, three videos released by the Center for Medical Progress reveal incriminating evidence of Planned Parenthood's participation in the illegal sale of fetal remains for profit and the use of the outlawed Partial Birth Abortion method to ensure the harvesting of marketable organs.
Planned Parenthood CEO Cecile Richard as responded with denials of any wrong-doing, but the videos continue to draw unwelcome scrutiny to her now-beleaguered abortion organization. Now it appears Planned Parenthood is resorting to desperate means to tamp down the scandal.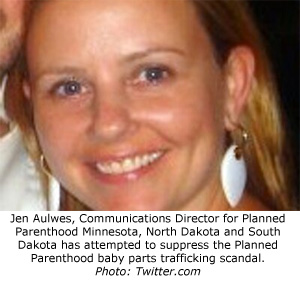 Yesterday, TruthRevolt.org published a story that included an e-mail reportedly from Jen Aulwes, Communications Director for Planned Parenthood Minnesota, North Dakota, South Dakota, sent to North Dakota Health and Political reporters and producers on July 27, 2015.
"The material should not be aired," Aulwes wrote citing the patently false notion that further covering the story would violate patient privacy rights. Aulwes also launched into a spurious attack on the Center for Medical Progress and those associated with it in an attempt to discredit them. [Read the full e-mail here.]
"Planned Parenthood is so desperate that they have resorted to bullying reporters into silence and suppressing an important news story about an organization that receives over a half-billion dollars of tax money each year," said Troy Newman, President of Operation Rescue who also serves on the Board of the Center for Medical Progress. "The videos are important because they tear away the veil that has shielded Planned Parenthood from public scrutiny for decades and revealed the truth of their deceptive, immoral and illegal practices."
Planned Parenthood has hired the crisis management firm of SKDKnickerbocker to run their damage control propaganda campaign. That firm is reportedly responsible for the threatening e-mails sent out from Planned Parenthood to media outlets telling them not to run the body parts trafficking story.
Planned Parenthood has also reportedly put the Washington, D.C. lobbying group, Capitol Counsel, on retainer, apparently to run interference in Congress where efforts are underway to suspend the abortion giant's federal funding pending the outcome of a Congressional investigation.
Conservative news organizations have exploded with coverage of Planned Parenthood's body parts trafficking scandal. Most notably, Fox News, Breitbart, have given excellent coverage to the Center for Medical Progress' three sting videos and have led the call for the defunding of Planned Parenthood and the criminal prosecution of Planned Parenthood executives.
According to the Federalist.com, Planned Parenthood's threatening push-back has had some impact on the left-leaning media. It stated:
BuzzFeed, for example, still does not have a single story on its website noting Planned Parenthood's aborted baby organs-for-Lambos scheme (coincidentally, SKDKnickerbocker recently hired former BuzzFeed reporter Kate Nocera to help handle PR work for its non-profit clients). Neither does Huffington Post. Neither does Vox. The story was trending on Facebook and Twitter, yet three sites that specialize in amplifying trending and viral content refused to print a single thing about the stories. Now we know why: Planned Parenthood likely told them not to.
"While Planned Parenthood has unlimited resources to try to shut down this story and conceal the evidence of their illegal activity, we must rely on the truth and the dearly held First Amendment guarantees of free speech and a free press," said Newman. "More videos will be forthcoming that shed further light on the depth of Planned Parenthood's participation in the grisly trade in baby remains. We will not be intimidated into silence. We believe the facts will win out over Planned Parenthood's lies, political influence, threats, and personal attacks as long as there are brave journalists who are willing to report the truth."

Read Operation Rescue's Archive of Stories related to the CMP's Human Capital project.