Topeka, KS — Operation Rescue has launched a petition to Kansas Gov. Sam Brownback asking him to instruct the Kansas Attorney General's office to immediately take actions to defend a 2011 abortion clinic licensing law that has languished under injunction in state court without action for nearly two years. The law requires abortion clinics to be licensed and meet common-sense minimum safety standards.
"We are encouraging Kansans and any other concerned individual to sign this petition to Gov. Brownback because abortion clinics in Kansas are continuing to operate without accountability under conditions that pose a danger to the public health and safety," said Cheryl Sullenger, Senior Policy Advisor for Operation Rescue. "Kansas remains an abortion-destination hot-spot for surrounding states, and that makes this issue everyone's business."
Shockingly, there has been no effort to defend the 2011 Clinic Licensing law since August, 2012. Attorneys appointed by Attorney General Derek Schmidt to defend the law have failed to heed repeated requests to take further action.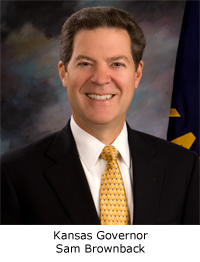 Clinic licensing legislation has enjoyed popularity in Kansas. It was actually approved by the Legislature a total of four times, having been vetoed three times by former Gov. Kathleen Sebelius, a radical supporter of unrestricted abortion, before finally being signed by Gov. Brownback in 2011.
"We are appealing to Gov. Brownback to get to the bottom of why this law isn't being defended," said Cheryl Sullenger, Senior Policy Advisor for Operation Rescue. "It is intolerable that eleven years after the first attempt, and three years after it was finally signed by Gov. Brownback, we still have no protections afforded by this law. Abortion clinics operating under sub-standard conditions continue to run amok in Kansas. We need Gov. Brownback's help to liberate 2011 Abortion Clinic Licensing law from 'judicial purgatory' where it is leaving women and babies at risk every day."
Gov. Brownback recently stated his support for pro-life efforts in his State of the State address in which he noted that Kansas has been a leader in national efforts to throw off human rights abuses, such as slavery and abortion.
"The chains of bondage of our brothers rubbed our skin and our hearts raw until we could stand it no more and erupted into 'Bleeding Kansas,'" Brownback said. "The Summer of Mercy sprung forth in Kansas as we could no longer tolerate the death of innocent children."
The Summer of Mercy was a 6-week campaign during the summer of 1991 led by Operation Rescue at George Tiller's former late-term abortion clinic in Wichita. That event featured the arrests of over 2,500 Christians who engaged in peaceful, non-violent civil disobedience and was attended by tens of thousands of pro-life supporters from around the nation. Those protests sparked activists to deeper involvement in the pro-life movement and were foundational to many of the abortion reforms America is experiencing today.
"We recognize that you are a strong supporter of the pro-life position and we applaud your willingness to publicly advocate for the cause of life," states the petition in reference to Brownback. "We appreciate that you are a man, not just of word, but of deed, signing legislation that provides strong protections for vulnerable women and their pre-born babies from abuse, injury and death from abortion."
The petition asks Gov. Brownback to "instruct the Office of the Attorney General to immediately proceed with whatever steps are necessary to defend the law against the legal challenge in the Shawnee County Court or show cause for why that office has declined its duty to defend the law, which was properly passed by the Legislature and signed into law by the Governor of Kansas."
Currently 3 out of 4 Kansas abortion clinics are in significant non-compliance with the law, but are allowed to operate while the law remains firmly mired in legal limbo. If the law was in effect, the clinics would most likely be forced to close for the protection of the public.
The constitutionality of the law was challenged by a father-daughter team of abortionists, Herbert Hodes and Tracy Nauser, of Overland Park. The duo refused to submit to a required initial licensing inspection and originally filed sued in Federal Court. They later dropped that suit and refiled in state court.
Another abortion clinic, Aid for Women, also known as Central Family Medical, in Kansas City, operates under such abysmal conditions that it failed to qualify for licensure before the law was enjoined. Operation Rescue uncovered multiple abortion violations at that clinic during an investigation there in 2012 – after the clinic licensing law was passed and enjoined – proving the urgent need for the new standards.
A third Kansas abortion clinic, South Wind Women's Center, which opened last April inside Tiller's former abortion building, would never have been allowed to open had the 2011 law been in effect because it cannot meet the minimum safety requirement that abortionist provide continuity of care in the event of medical emergencies by maintaining local hospital privileges. Every hospital in the Wichita area has turned down South Wind's only abortionist, Cheryl Chastine, who flies from the Chicago area do abortions in Wichita then returns to Chicago. This practice poses availability as well as liability issues in the event of abortion complications.
"It is just wrong for the Judicial branch to over-ride the Legislative and Executive branches, not on constitutional or legal grounds, but through providing a place where a law can be blocked via a temporary order that goes on forever without further hearing or final disposition. That is a subversion of the process," said Sullenger. "Meanwhile, abortion clinics continue to operate under substandard conditions that endanger the lives and health of women. It's an injustice that needs to be remedied immediately."
READ & SIGN THE PETITION
Additional Background