By Cheryl Sullenger
Dayton, OH — New documents just acquired by Operation Rescue show that the Women's Med Center, a late-term abortion facility in Dayton, Ohio, committed violations of Ambulatory Surgical Facility rules by aborting a late-term pregnancy on a 31-year old woman who was so impaired by an overdose of street drugs that she could not give her consent.
The owner and medical director of the Women's Med Center (WMC) is the notorious third-trimester abortion specialist Martin Haskell.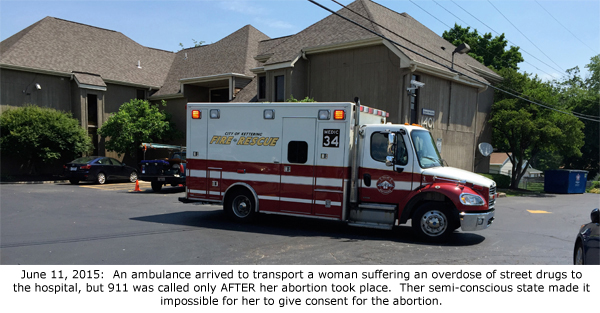 Operation Rescue was notified local activists at the time of the incident, which occurred on June 11, 2015, and was provided photos of the ambulance that responded to the WMC's call for emergency medical assistance.
Public 911 audio recording obtained by Operation Rescue showed that a WMC employee called for help with a patient who was suffering from an overdose of street drugs. There was no mention in the call that a late-term abortion was involved. Because of that, it appeared that the incident was not abortion-related.
However, a deficiency report released by the Ohio Department of Heath last month shows that a complaint was immediately filed against the WMC, presumably by someone associated with the hospital where the patient was taken. This prompted an inspection the following day, on June 12, 2015.
During that inspection, the WMC was cited for "failure to ensure a patient was allowed to refuse or withdraw consent for treatment when her physical and cognitive condition precluded her from participating in her treatment."
An inspector from the Department of Health was given access to the WMC medical record of the hospitalized woman, known as "Patient 1," and recorded details to describe what happened to the woman.
On June 10, 2015, Patient 1 reported to the Women's Medical Center for preparation for an abortion, which included the placement of "a dilator." It is routine for women who are about to undergo late-term abortions in the second trimester or later to have dilators, known as laminaria, inserted into their cervixes. These dilators are meant to expand the cervical opening large enough so that surgical instruments can be inserted and dismembered parts of the baby can be removed.
After the dilator insertion, Patient 1 was given six tablets of Percocet (a narcotic pain reliever) and told to return the following day.
A nurse's note dated June 11, 2015, read:
Patient arrived to facility in care of friend and was noted to be leaning on friend, walking slowly … Patient speech noted to be slow and slurred. Patient unable to keep eyes open and noted to be twitching when open. Patient unable to hold conversation.
The patient was put into a wheelchair, but was unable to hold her head up. One staff member told the inspector that the patient displayed signs of recreational drug use.
The abortionist's note concerning Patient 1's condition stated that she "arrived at the office in a somulent state; responsive to strong stimuli; but otherwise not able to walk, or to make coherent conversation."
According to Patient 1's friend, before arriving at the abortion facility, the woman had ingested two Soma and several Percocet along with what was believed to be Suboxone and heroin.
Instead of calling 911 at that time for the obviously overdosed patient, the physician on duty consulted two other physicians. One was the facility's Medical Director, Martin Haskell, the notorious late-term abortionist. The other was a designated transfer physician who is contracted to supply emergency hospital care for WMC patients since none of the WMC abortionists qualify for hospital privileges.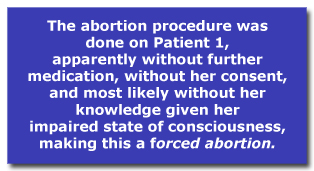 The deficiency report stated, "The physician note dated 06/11/2015 revealed the decision was made to do the procedure and planned for post procedure admission to the hospital with a diagnosis of 'suspected recreational drug overdose.'"
The abortion procedure was done on Patient 1, apparently without further medication, without her consent, and most likely without her knowledge given her impaired state of consciousness, making this a forced abortion.
During the procedure, records show the patient experienced semi-consciousness and low blood pressure.
It was only after the abortion was completed that 911 was called and Patient 1 was given Narcan, a drug to counteract the effects of opiate drugs.
"Leaving out the fact that Patient 1 had just undergone a late-term abortion procedure and other important details about her condition put the EMS workers at a disadvantage when responding to the call for help," said Troy Newman, President of Operation Rescue. "Late-term abortions are expensive. For Haskell and his staff, the abortion fee came first before the safety or life of their patient."
It is currently unknown what kind of repercussions were experienced by WMC staff for committing a risky abortion on an overdosed patient who could not consent to the procedure. However, the facility remains open and there is no evidence that the Ohio Medical Board has held Haskell or the suspected abortionist, Roslyn Kade, responsible in any way.
Operation Rescue will follow up with this developing situation and report any update as they come in.
Read the full Women's Med Center Deficiency Report