What PP says is "rogue" is really a widespread problem of abortion abuses, even in their own clinics.
Salt Lake City, UT – State Representative Carl Wimmer has introduced legislation in Utah this year, known as House Bill 171, which would mandate that abortion clinics be inspected twice a year, once without notice to the clinics, in order to keep them accountable to the law. To prove his point, Rep. Wimmer showed a video to legislators featuring Operation Rescue President Troy Newman that revealed horrific conditions at abortion clinics in other states.
However, Planned Parenthood accused Wimmer of not telling the truth about abortion clinic problems and told one news station "there are no rogue abortionists" operating in Utah.
Not true, says Operation Rescue, which has filed a complaint against the medical license of Utah abortionist Nicola I. Riley, whose Maryland medical license is currently under suspension due to charges that she helped the notorious abortionist Steven Chase Brigham operate an illegal bi-state late-term abortion racket, aided in the unlicensed practice of medicine, and lied to the Maryland Board of Physicians to fraudulently gain licensure there. One woman landed in the hospital with life threatening injuries received during a botched late-term abortion illegally conducted by Riley. When the secret abortion clinic where Riley worked was raided by police, they discovered the bodies of 35 viable babies. Criminal investigations are currently underway.
"Saying there are no rogue abortionists in Utah is like saying there is no salt in the Great Salt Lake," said Newman.
While Maryland officials say that Riley is too dangerous to practice medicine, she continues to practice without restriction in Utah. The Department of Occupational and Professional Licensing, which oversees physicians in Utah has been slow to act, even in wake the startling charges levied against Riley in Maryland. This inaction is helping to create a climate of denial that dangerous abortionists and unsafe clinics are operating in that state.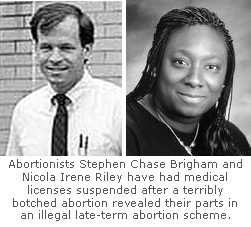 "Once police raided Riley's clinic in Elkton, Maryland, it was declared a crime scene," said Newman. "In addition to the bodies of the illegally aborted babies, they found logs and other documents that revealed other violations and mistreatment of patients. If they found this in Maryland, where Riley only worked for a short time, what is going on at clinics where she is currently working in Utah? No one will ever know without surprise inspections that give the clinics no opportunity to hide evidence of wrong-doing."
The Maryland Board of Physicians also accused Riley of giving false information to authorities in Utah in order to gain acceptance into Medical School at the University of Utah and to gain a state medical license. Riley is accused of misrepresenting her criminal conviction for "conduct unbecoming an officer" while serving in the military.
Riley is accused of lying when she told medical boards in Utah and Maryland that she failed to report in a timely manner a credit card/identity theft scam operated by enlisted men under her command while serving in the U.S. Army at Ft. Carson, Colorado, and that she only served one year at Ft. Leavenworth Military Prison. However, according to military documents obtained by Operation Rescue, Riley herself went to local jewelry stores, filled out credit card applications using names and information obtained through her duties at Ft. Carson, and walk away with thousands of dollars in jewelry. Riley pled guilty and was sentenced to 30 months of confinement at Ft. Leavenworth Military Prison in Kansas.
"This information about Riley has been in the public domain for months," said Newman. "For Planned Parenthood accuse Rep. Wimmer of not telling the truth is the height of hypocrisy. Their spokesperson is either grossly unaware or has intentionally misled the legislature and the public. The reality is that abortion abuses that Planned Parenthood would label as 'rogue' are actually widespread problems at abortion clinics throughout the U.S., including their own. If Planned Parenthood is willing to mislead on this point, one can only wonder what it is hiding at its own clinics. Rep. Wimmer is a hero for bringing the rampant pattern of abortion abuses to the attention of the public, and for trying to do something to stop them."