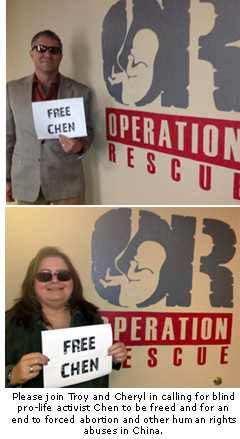 Washington, DC — Reggie Littlejohn of Women's Rights Without Frontiers is working to bring awareness to the home detention of blind Chinese pro-life activist Chen Guangcheng, who has been working to stop China's brutal "one-child only" policies that have resulted in thousands of forced abortions. Chen has been incarcerated, beaten and denied medical care. He now languishes under house arrest. Those who attempt to visit him are roughed up or beaten and run off.
Above is a video of actor Christian Bale's attempt to visit Chen. We want to publicly thank Mr. Bale for attempting to visit Chen and for helping to draw attention to barbaric forced abortion policies and other human rights abuses in China.
Operation Rescue stands with Mr. Bale and Women's Rights Without Frontiers in calling for the immediate release of Chen and the cessation of China's "one-child only" forced abortion policies.
Please join Troy and Cheryl by participating in the Chen Sunglasses Freedom Campaign.
Click here to learn more.