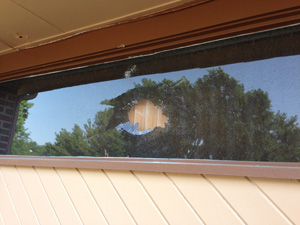 Wichita, Kansas — Operation Rescue's national headquarters in Wichita, Kansas, was attacked Sunday night by a man who threw a large rock through a window causing hundreds of dollars in damage. Staff discovered the damage when they arrived at the office on Monday morning.
It is the latest in a series of attacks on the office, a former abortion clinic, since Operation Rescue acquired the building and closed the abortion business in 2006.
The rock plunged through the window leaving a large hole and shattered glass over Troy Newman's desk, computer, and surrounding area.
"This vandalism is yet another example of violence against pro-life supporters. It is no accident that our office has been singled out for repeated attacks with damage totaling in the thousands of dollars," said Newman, who serves as president of Operation Rescue.
Operation Rescue recently conducted one of several security upgrades required since renovating the former Central Women's Services abortion clinic into office space where the organization now works to close abortion clinics and stop abortion.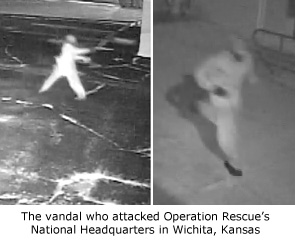 The new cameras caught photos of the perpetrator, who could not be immediately identified. The man took efforts to conceal his appearance with a hat and baggy coat, even though temperatures were in the upper 70s to lower 80s at the time.
A police report was filed and the perpetrator is still at large.
"Thankfully, the attack happened in the middle of the night when no one was in the office," said Newman. "Our staff is safe and taking additional security precautions just in case. Unfortunately, we are all too familiar with this kind of violence and have become security conscious out of necessity. Our enemies need to understand that this kind of cowardly intimidation only strengthens our resolve to press on with our work to expose abortion abuses and bring an end to the barbaric practice of abortion."
In the past, OR's Wichita office has suffered damage to pro-life signage, had the security system repeatedly disabled, and was even the site of an anthrax scare that turned out to be harmless powder. Local, state and Federal law enforcement officers were mobilized to respond to that incident. Newman and Cheryl Sullenger, Senior Policy Advisor for Operation Rescue, have also been subjected to literally hundreds of death threats and threatening calls and e-mails over the years.
"We put our faith in God to protect us and our families, and so far, our prayers have been answered," said Newman. "We press on in confidence, knowing that we are firmly in His hands."
The mainstream media has generally ignored the pattern of pro-abortion violence against Operation Rescue and other pro-life groups.
Operation Rescue is gratefully accepting donations to help defer the cost of the repairs. Click here to help.