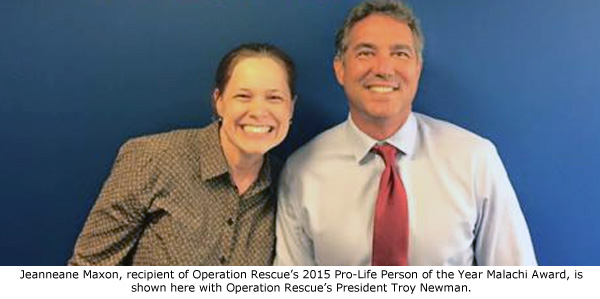 Washington, DC – Operation Rescue is pleased to announce that the recipient of the 2015 Pro-life Person of the Year Malachi Award is Jeanneane Maxon, former Vice President of External Affairs and Corporate Counsel at Americans United for Life.
Maxon's instrumental and sacrificial team-building work with AUL contributed to a flood of new pro-life legislation that has led to a dramatic number abortion clinic closures and a reduction in abortions in America to historic new lows.
The Malachi Award is given by Operation Rescue every year to recognize individuals who sacrificially work to advance the cause of protecting the pre-born.
"Jeanneane's quiet but brilliant work with AUL has had a major impact on the Abortion Cartel," said Troy Newman, President of Operation Rescue. "Over her ten years of full-time pro-life commitment, she has time and again put her personal aspirations on hold so she could devote her life to protecting pre-born babies through the legal system. I am privileged to call Jeanneane my friend, and pleased to honor her with the Malachi Award for her achievements."
Maxon resigned from her position at AUL in December and planned to move from Washington, D.C. to Texas to be closer to family and start her own consulting firm. However, on the day of her move, Maxon was rushed an emergency room and diagnosed with malignant brain cancer. Just before Christmas, Maxon underwent successful surgery to remove a brain tumor the size of a lime.
"Life doesn't always go as planned, and it is how we deal with challenges that show our true character. Jeanneane's strong Christian faith, trust in the power of prayer, and fighting spirit are shining examples to all of us," said Newman.
Because Maxon has sacrificed so much for the cause of life, Operation Rescue wants to encourage pro-life supporters to stand with her in this time of need by making a generous donation to Jeanneane's Give Forward Fund to help with medical expenses and the unexpected expenditures incurred by her family as they care for her during what is expected to be a long recovery process.
Previous Malachi Award recipients include Bud and Tara Shaver of Protest ABQ, who spearheaded a unique municipal ballot initiative to ban abortions after 20 weeks in the city of Albuquerque, New Mexico. Others are Kortney Bythe Gordon, of Students for Life in America who was killed in a tragic car accident in 2011; Eileen Smith, who crusades against abortion after her daughter was killed by abortionist Rapin Osathanondh; Jim Pouillon, a pro-life activist who was gunned down during a peaceful protest in 2009; Lila Rose of Live Action Films for her documentation of Planned Parenthood abuses; Dr. Johnny Hunter of LEARN, who is exposing the devastating effects of abortion on the African-American community; Leslee Unruh, who spearheaded efforts to ban abortion in South Dakota; and Phill Kline, the former Kansas prosecutor whose abortion investigations led to the only criminal case ever filed against Planned Parenthood.