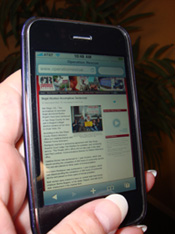 Washington, DC – Operation Rescue has won an award for its popular website in an online competition held by the American Life League.
The Pro-Life Blog Awards competition was created by ALL to promote, encourage, impassion and reward pro-life bloggers for providing the pro-life movement with access to the best news and information.
Operationrescue.org won in the "Pro-Life Instigator Award for Activism" category. Winners were determined by a process of nomination and popular vote. Premier pro-life blogger Jill Stanek will present the 2010 Pro-Life Blog Awards Jan. 21, during American Life League's Training and Activism Week and Personhood Conference, Jan. 20–23, at the Washington Court Hotel in Washington, D.C.
"We wish to thank everyone who voted for us. It is encouraging to be recognized for our hard work in maintaining a relevant and informative web site that also serves as an important activism arm of our ministry," said Operation Rescue President Troy Newman. "We thank ALL for sponsoring this competition and pray it will inspire others to make a difference through the powerful tool of the Internet.