Public invited to attend Iowa Medical Board session to speak out against push-button abortions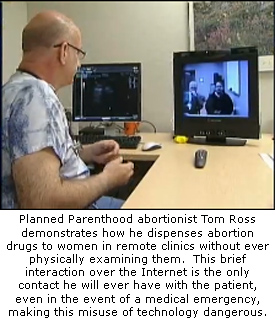 Des Moines, IA – Operation Rescue will participate in a press conference with a coalition of pro-life and pro-family organizations on Friday, August 20th, at 12:00 Noon prior to the afternoon session of the Iowa Board of Medicine where public comments will be heard regarding Planned Parenthood's remote-controlled push-button abortion pill distribution scheme, known as telemed abortions.
The Iowa Board of Medicine (IBM) will be meeting at 400 SW 8th Street, Suite C in Des Moines. The press conference will be held on the area just south of the building between Murphy Street and SW 8th Street. It is being led by Iowans for Life.
After the press conference, Operation Rescue plans to attend the public comment portion of the IBM meeting and voice strong opposition to the misuse of telemedicine by Planned Parenthood of the Heartland, which conducts abortion by pill without a licensed physician present or physically available to the patient, even in the event of an emergency.
Operation Rescue filed a complaint with the IBM against Planned Parenthood of the Heartland in an effort to stop the dangerous practice of the push-button telemed abortions. That complaint launched an investigation that is ongoing.
"We encourage everyone who can to attend the press conference and IBM meeting to voice concerns about Planned Parenthood's dangerous misuse of technology that kills innocent babies and endangers the lives of women," said Operation Rescue President Troy Newman. "Now is the time for us to stand up and speak on behalf of those who have no voice."
Operation Rescue will also be commenting on our interactions with the Iowa Attorney General's office regarding requests for a criminal investigation and audit of Planned Parenthood of the Heartland for alleged violations concerning the dubious practice of telemed abortions.