Obama's statement that abortions will not be paid for with federal money is a bold-faced deception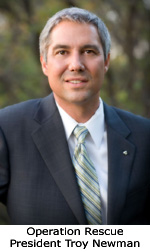 Washington, DC – President Barack Obama made the statement during last evening's address on Health Care Reform that before a joint session of Congress that was meant to deceive the American people on the matter of tax-payer funding of abortions.
Obama stated, "One more misunderstanding I want to clear up – under our plan, no federal dollars will be used to fund abortions, and federal conscience laws will remain in place."
"Every fact-checking organization tells us that this is just not true. The reality is that federal funds will indeed go to pay for abortions and to subsidize private insurers that pay for abortions. There are absolutely no safeguards to prevent this funding of abortion," said Operation Rescue President Troy Newman. "We also know that when taxpayer money is used to finance abortions, the number of abortions rise. That means we all become complicit in the shedding of innocent blood."
"It is shameful and disturbing that Obama would stand before Congress and all of the nation, look into the camera, and lie about a matter that is of great concern to the vast majority of the American people who oppose using their hard-earned money to bail out a failing abortion industry. Obama has denigrated the office of the Presidency and played the American people for fools."
"We call on the American people to contact their Congressional Representatives and their Senators today and let them know that they will not allow such a deception to pass."
Newman will be in Washington, D.C. this weekend to attend a 27-hour prayer vigil where Christians will gather to petition God to intervene in the national health care debate and ensure that taxpayer funds and not used to pay for abortions.