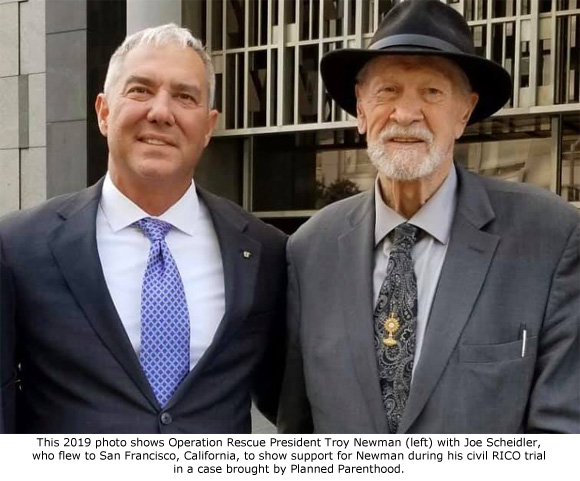 By Cheryl Sullenger
Chicago, IL – Operation Rescue has been informed of the passing of pro-life hero Joseph Scheidler, the founder of the Pro-Life Action League based in Chicago, Illinois.
Scheidler, 93, died from a bout with pneumonia, and passed peacefully at home surrounded by family, according to a Thomas More Society spokesperson.
"Joe Scheidler was my mentor and my friend. He was incredibly encouraging and supportive, especially through difficult times. I cannot express how much he influenced my life for the better. His own work had an enormous impact on Operation Rescue and the entire the Pro-Life Movement. He will be deeply missed," said Operation Rescue President Troy Newman.
Scheidler was an activist who took the pro-life message to the streets in an effort to end abortion, speaking in clear language about the evil of child-killing. Since its publication in 1985, his book, CLOSED: 99 Ways to Stop Abortion has served as an activist's handbook to peaceful, yet cutting edge ways to end abortion.
Scheidler made history when he was among the first pro-life activists sued under Racketeer Influenced Corrupt Organizations (RICO) laws by the National Organization for Women. Scheidler persistently fought that lawsuit for 28 years, making a record three trips to the U.S. Supreme Court before finally winning that case once and for all.
He became known as the "Godfather" of the Pro-Life movement and joked about being a "Racketeer for Life."
In 2019, Scheidler was in court for another RICO trial – this time to observe proceedings and support his friend, Troy Newman, who was being sued by Planned Parenthood for his part in helping to expose their illegal trafficking of aborted baby body parts.
"Although we have suffered a deep loss, Joe led rich life of faith and obedience that deserves to be celebrated. An untold number of people are alive today because of Joe's dedication to speaking out and rescuing the innocent from death at America's abortion facilities. The impact of his faithfulness will reverberate throughout generations to come," said Newman. "It was a privilege to have known him."