Court Ruling Fallout: Substandard Texas Abortion Business Plans to Reopen/Relocate to New Mexico
By Cheryl Sullenger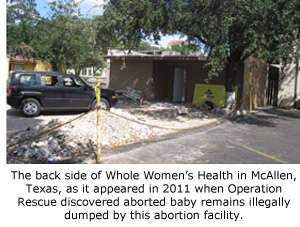 McAllen, TX – Operation Rescue warns that women will be placed at serious risk if Whole Women's Health reopens its substandard abortion facility in McAllen, Texas as announced by the Texas abortion chain earlier today.
"Abortionists that have been rejected by local hospitals for admitting privileges will be placing the lives and health of women at risk this weekend if Whole Women's Health proceeds with ill-advised plans to conduct abortions under substandard conditions this weekend," said Troy Newman, President of Operation Rescue.
The announcement stated that Whole Women's Health is scheduling abortion appointments for this weekend in McAllen, after a Federal Court set aside the facility and hospital requirements in a Texas licensing law. That facility has been closed for six months because its abortionist is not qualified to obtain hospital privileges.
"Whole Women's Health is putting the cart before the horse and profits before the lives and health of women by scheduling abortion appointments in McAllen," said Troy Newman, President of Operation Rescue. "They have no idea how an appeals court will rule at a hearing set for this Friday. It is premature to schedule abortions when it has already been determined that its McAllen facility cannot meet basic health and safety standards. This reckless move shows how much Whole Women's Health is all about profit and not about the safety of patients."
On Friday, Judge Lee Yeakel ruled that the building requirements of Texas' abortion facility licensing law, known as HB2, were unconstitutional and also set aside the requirement that abortionists maintain local hospital privileges only for abortion businesses in the Rio Grande Valley and El Paso areas.
Attorney General Gregg Abbott filed an emergency appeal to the 5th Circuit Court of Appeals, which ruled today that no decision would be made until after Friday's hearing on the matter.
The Fifth Circuit Court of Appeals ruled in March that the hospital privilege requirement could be enforced prior to the trial challenging the constitutionality of HB2, which was passed in 2013 amid raucous protests by abortion supporters.
Operation Rescue estimates, based on earlier court testimony, that nearly 1,000 women were hospitalized in Texas each year suffering from life-threatening abortion complications prior to the enactment of HB2.
Since it went into effect, nearly half of all Texas abortion facilities have closed.
In addition, Whole Women's Health plans to open an abortion facility in Las Cruces, New Mexico, about 50 miles from El Paso, in an attempt to evade Texas safety laws. There are no laws in New Mexico that place standards or restrictions on abortions.
"By moving to New Mexico, Whole Women's Health is letting the world know that they prefer to operate in back-alley conditions without any oversight rather than comply with common-sense safety laws," said Newman. "If they were treating household pets, this kind of flouting of medical safety standards simply would never be tolerated. That places the lives of Whole Women's Health patients below that of the family dog, and that's despicable."
In 2011, Operation Rescue conducted an undercover investigation of Texas abortion facilities and discovered numerous violations, including the illegal dumping of aborted baby remains at the McAllen abortion facility that led to heavy fines.