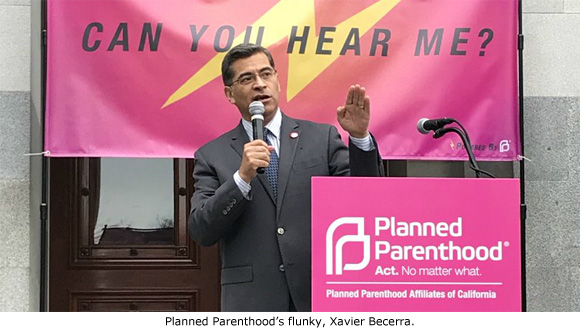 By Cheryl Sullenger
Washington, D.C. – On Tuesday, February 23, 2021, the U.S. Senate Committee on Health, Education, Labor, and Pensions is scheduled to hold a confirmation hearing on Xavier Becerra's nomination for the cabinet position of Secretary of Health and Human Services. 
Operation Rescue has joined other leading pro-life organizations in sending a letter to the Committee opposing Becerra's nomination. The letter cited several of his known policy positions as disqualifying, including his radical support for abortion and its expansion at taxpayer expense, as well as his disregard for the religious and moral convictions of those who oppose the brutal taking of innocent human life through the barbaric practice of abortion.
Becerra succeeded Kamala Harris as Attorney General of California, and continued her persecution of pro-life citizen journalists David Daleiden and Sandra Merritt, who documented Planned Parenthood's involvement in the trafficking aborted baby body parts for "valuable consideration," which is illegal in the U.S. Becerra's ongoing criminal prosecution of the pro-life journalists is in violation of their First Amendment rights to Freedom of Speech and Freedom of the Press.
"Becerra is a known abuser of the Constitutional Rights of pro-life supporters and the God-given right to life of babies in the womb. He has protected his friends at Planned Parenthood from accountability under the law, while they continue to dismember babies then sell their tissues and organs to the highest bidder," said Troy Newman, President of Operation Rescue, who was involved in an advisory capacity with the undercover investigation into Planned Parenthood's aborted baby parts business. "Because Becerra has shown no regard for innocent human life, he is unfit to serve in any capacity, much less as the overseer of the massive and powerful Department of Health and Human Services – a department that not only affects the lives of the unborn, but also the lives of every person in America. His nomination must be rejected."
Read the full letter to the U.S. Senate Committee on Health, Education, Labor, and Pensions.
Contact your Senator and urge them to reject Becerra's nomination to the position of Secretary of the Department of Health and Human Services.