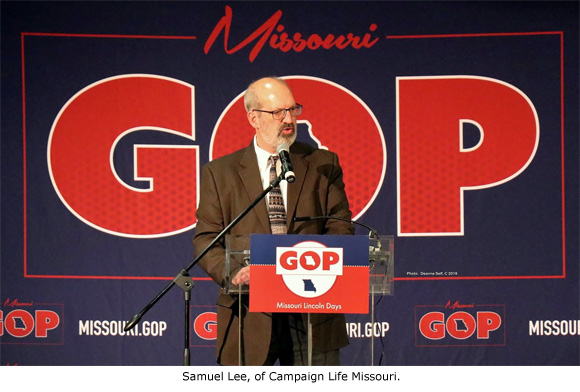 PRESS RELEASE
Washington, D.C. – Operation Rescue is pleased to announce that the recipient of the 2019 Person of the Year Malachi Award is Samuel Lee, a Missouri pro-life lobbyist and activist whose influential work crafting creative and effective legislation has placed Missouri on the cusp of halting abortions at the last remaining abortion facility in that state.
The Malachi Award is given by Operation Rescue every year to recognize individuals who sacrificially work to advance the cause of protecting the pre-born.
Lee is the head of Campaign for Life Missouri and has worked as a pro-life lobbyist for 35 years. He is known for thinking "outside the box" when crafting new bills to protect pregnant women and their babies from shoddy and predatory abortion practices.
Due to legislation that Lee helped to create and pass, Planned Parenthood was recently prevented from expanding abortions into six Missouri communities. Two Planned Parenthood facilities in Kansas City and Columbia were forced to halt all abortions. In addition, the notoriously dangerous Reproductive Health Services Planned Parenthood abortion facility in St. Louis is awaiting an expected Administrative Court decision in February that will likely cancel its abortion facility license. That will make Missouri the first state with no active abortion facility since the Roe v. Wade decision.
"Sam Lee has helped craft some of the most effective pieces of pro-life legislation out there," said Operation Rescue President Troy Newman. "I have tremendous respect for him and his work. Efforts to make Missouri abortion free have been a team effort, and Sam Lee has been an essential member of that team."
"Sam has worked tirelessly on behalf of the unborn his entire professional life, and is recognized as an authority on the pro-life movement in Missouri – a most worthy recipient of this award," said Tyler McClay, Executive Director and General Counsel of the Missouri Catholic Conference.
"Witnessing Sam Lee's tenacious fight for life has been the most inspirational and motivating thing that has happened to me and the state of Missouri. His faith and resolve have served him well. He is known as the 'go-to' person for life-affirming causes. My deepest congratulations to him–well done, good and faithful servant!" said Kathy Forck, Campaign Director for 40 Days for Life in Columbia.