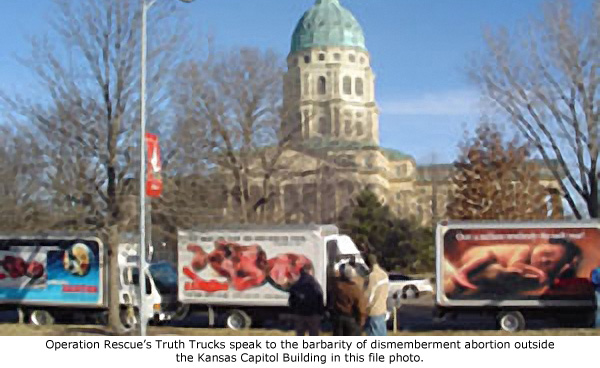 Press Release: For Immediate Release
Troy Newman: 316-841-1700
Cheryl Sullenger: 316-516-3034
Topeka, Kansas – Just minutes ago, on the 43rd memorial of Roe v. Wade, the full Kansas Court of Appeals issued a decision that maintains the status quo blocking the first-in-the-nation law banning gruesome dismemberment abortions. The split decision, 7-7, shows a sharp disagreement within the Court concerning whether the Kansas Constitution really includes the right to an abortion.
The case is expected to be appealed to the Kansas Supreme Court.
"The Appellate Court took a pass on the very important question of whether the Kansas Constitution contains a woman's right to kill her baby through dismemberment in the womb in the most grisly and barbaric manner. We completely denounce that decision," said Operation Rescue President Troy Newman, whose national headquarters are located in Wichita, Kansas.
The law banning second-trimester dismemberment abortions, also known as Dilation and Evacuation procedures, was passed last year then challenged in state court by the father-daughter abortion team of Herbert Hodes and Tracy Nauser of Overland Park.
"The ruling reveals that there is a huge disagreement even within the courts about abortion and its legal standing in Kansas," stated Cheryl Sullenger, Senior Vice President of Operation Rescue. "We submit that it is the height of barbarism to allow babies to be killed by tearing them limb from limb while they struggle for life. Western civilization has rejected and condemned human rights abuses such as human sacrifice, slavery, gladiatorial blood sports, and the Jewish Holocaust. It is immorally inconsistent with this historic stand against murder to embrace abortion."
To mark the Roe v. Wade decision and stand against today's ruling, Operation Rescue and the Kansas Coalition for Life will hold a sign-wave and program outside Wichita's only abortion business, South Wind Women's Services.
Event Details:
Roe v. Wade Memorial
January 22, 2016
6:00-7:00 pm
Outside South Wind Women's Center abortion business
5107 E. Kellogg, Wichita, Kansas
Speakers will include Cheryl Sullenger, Senior Vice President of Operation Rescue and Mark Gietzen, Director of the Kansas Coalition for Life.
Both Sullenger and Gietzen will be available for media comment.

Read the Split Decision