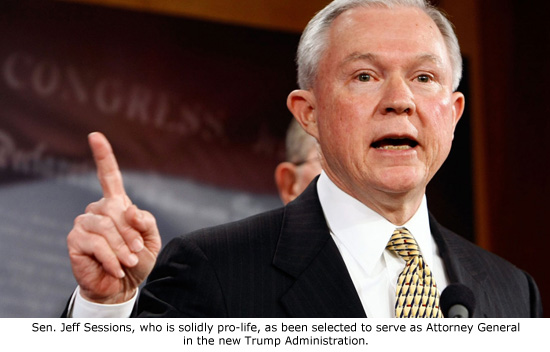 By Cheryl Sullenger
Washington, DC – Operation Rescue congratulates Attorney General Jeff Sessions on his confirmation by the U.S. Senate with a vote of 52 to 47.
Operation Rescue had endorsed President Donald Trump's nomination of Sessions because of his stellar character and strong pro-life convictions.
"We congratulate Attorney General Sessions on his confirmation and stand ready to assist him with access to our research and documentation in prosecuting abortion abusers such as Planned Parenthood and Texas abortionist Douglas Karpen," said Troy Newman, President of Operation Rescue.
Several Planned Parenthood organizations and Karpen were referred to the Department of Justice by the House Select Investigative Panel on Infant Lives for criminal investigation and prosecution. It will now be up to Attorney General Sessions to make decisions on those criminal referrals.
Sessions was forced to endure vicious attacks on his character by leftist Democrats who attempted to inflict as much damage as possible on a nominee that they knew they could not thwart.
During his January 10, 2017, confirmation hearing, Senator Richard Blumenthal, a pro-abortion Democrat, attempted to use falsehoods about Operation Rescue in an attempt to smear Sessions.
Blumenthal falsely accused Operation Rescue of supporting violence against abortion providers, when in fact Operation Rescue has a long and documented history of condemning such violence.
While Sessions denounced the behavior that Blumenthal wrongly ascribed to Operation Rescue, he never denounced organization.
Newman and his attorney, Catherine Foster, later hand-delivered a letter to Blumenthal seeking a public retraction and apology for his slanderous and false statements about Operation Rescue.
"Under the Obama Administration, the Department of Justice turned a blind eye to abortion-related crimes, allowing abortion criminals to run amok over the lives of women and their babies. We look forward to a new era of justice where the laws of the land are enforced against those within the Abortion Cartel that have behaved as if they are above them," said Newman.