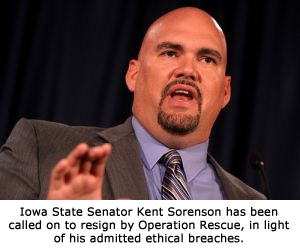 Des Moines, Iowa – Operation Rescue was saddened to hear that the Iowa State Senate Ethics Committee has referred an ethics complaint against Iowa State Sen. Kent Sorenson to a special investigator after admissions he committed violations became public.
Sorenson is a Republican and self-proclaimed pro-life advocate. Because of the distraction this scandal has caused to pro-life efforts in Iowa, Operation Rescue is calling on Sen. Sorenson to resign.
"There is a need to hold public officials who claim to represent traditional conservative values, such as the pro-life position, to a high standard. Others may be able to get away with corruption, but those who purport to represent traditional morality simply cannot," said Operation Rescue President Troy Newman. "For the good of the pro-life movement, Kent Sorenson must resign."
TheIowaRepublican.com recently published a series of articles that presented documentation in the form of e-mails, letters, and recorded conversations that make a strong case that Sen. Sorenson violated Iowa State Senate ethics rules when he accepted financial compensation from the Michelle Bachman Presidential Campaign, and later from the Ron Paul Presidential Campaign, in exchange for his endorsement during the 2012 election cycle. In fact, Sorenson admitted to receiving financial compensation in exchange for his endorsements.
Included in TheIowaRepublican.com articles was an admission by Sorenson that he engaged in the theft of an e-mail list from a home-schooling association and offered it to the Paul Campaign for fundraising efforts as an incentive to "hire" him.
Sorenson remains under investigation.
There is no evidence that Ron Paul had personal knowledge of the unethical dealings between members of his campaign staff and Sorenson.
"We had grave concerns about Sen. Sorenson, who claims to be a supporter of the pro-life cause, when he refused to support pro-life legislation in 2011 that would have banned webcam abortions and late-term abortions after 20 weeks," said Newman. "Now it seems that our concerns have materialized in Sorenson's alleged and admitted misconduct. We need to put this scandal behind us, and to do so, we ask that Sen. Sorenson to do the right thing and resign so that efforts to protect innocent pre-born children may advance in Iowa."
Operation Rescue worked in Iowa to expose Planned Parenthood's experimental and very profitable "webcam" abortion pill distribution scheme in 2010. Since then 11 states have passed legislation to ban the dangerous procedure that subjects women to a sub-par standard of care. Iowa was not among them.
However, the Iowa Board of Medicine is currently working to amend their regulations to stop webcam abortions at the request of several Iowa physicians who consider the process unsafe.
Read the news articles and view the evidence: