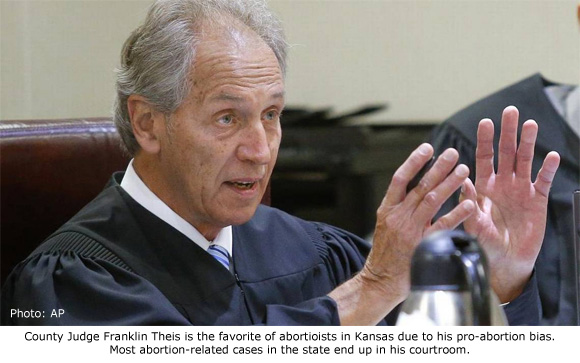 By Cheryl Sullenger
Wichita, KS – Shawnee County District Court Judge Franklin Theis issued a bizarre ruling on Monday that enjoined the 2018 Kansas Telemedicine Act, which would have prohibited the dispensing of abortion drugs without a licensed physician present.
The case was brought by Trust Women, an abortion business in Wichita, Kansas, that began conducting webcam abortions in October 2018, as a means of increasing abortion days and profits. Before starting the webcam abortions, Trust Women's abortionists – none of which are located in Kansas – were only available two days per week. Women are still are required to report to the Wichita clinic in order to obtain abortion drugs via the webcam process. Any claim that Trust Women is using it to help women in rural areas of Kansas access abortion is a ruse.
What made Monday's ruling particularly troubling was that Theis determined the new law is actually blocked under a 2011 injunction that halted enforcement of a broader abortion facility licensing law that contained a similar ban on webcam abortions.
Theis' ruling called the 2011 injunction "a 'safe harbor' for the clinic," according to the Associated Press, even though the Trust Women facility did not even exist until April 2013.
"Theis' ruling betrayed his corruption and bias in favor of abortion no matter how dangerous the process is or how many women are hurt by shoddy practitioners and practices. We have been warning about his corruption for nearly a decade. Yet he continues to be allowed to block up pro-life laws without providing any resolution to the cases," said Troy Newman, President of Operation Rescue, which is headquartered in Wichita, Kansas. "Because Theis' corruption is placing women at risk from a dangerously unaccountable abortion process, he has proven himself to be unfit for office. We call on him to resign immediately."
Theis has blocked three legislative attempts to ban dangerous webcam abortions: first in 2011, again in 2015, and now this week. He handles nearly all abortion-related cases brought in Kansas.
"Theis is a product of wide-spread abortion corruption within the Kansas judiciary that reaches all the way to the State Supreme Court. Even so-called pro-life Attorney General Derek Schmidt, who has allowed the 2011 case to languish in Theis' courtroom without action for nearly nine years, is in on it," said Newman. "It's long past time for the people of Kansas to clean house."
Women who use the webcam process report to a supposedly nearby facility and speak with an abortionist at a different location via an internet teleconferencing link. The abortionist reviews their charts and ultrasound images then prescribes the abortion inducing drugs over the internet connection.
Women never have any personal contact with the abortionist who prescribed the drugs, which leaves the abortionist completely unaccountable when things go wrong. When complications occur, as they do in at least five percent of cases, women are forced to make their own way to a hospital emergency room. The doctor-patient relationship is virtually non-existent.
Please contact Judge Theis' courtroom and ask for his resignation!
Phone: 785-251-6310
Background: Stacked Deck: Wichita Abortion Business Sues to Block Webcam Abortion Ban in Biased Court