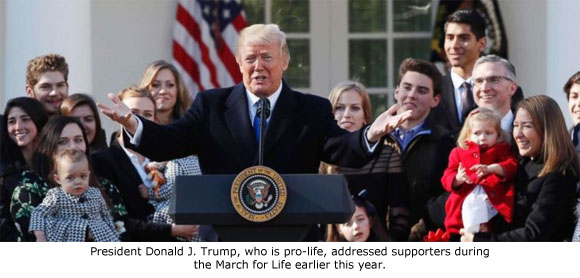 PRESS RELEASE
Washington, D.C. – Today, the Trump Administration implemented the Protect Life Rule, which will prevent Title X programs from conducting, counseling for, or referring for abortions.
"I am very grateful to President Trump for making the Protect Life Rule a reality. As someone that researches abortion abuses daily, I know this rule will protect vulnerable women from exploitation and possible harm at Planned Parenthood abortion clinics that masquerade as women's health facilities," said Cheryl Sullenger, Senior Vice President of Operation Rescue. "President Trump promised to defund Planned Parenthood and today he has kept that promise as far as the Title X program is concerned. Thank you, Mr. President!"
There are 266 Planned Parenthood abortion facilities that are currently receiving Title X funding.
Serious abortion complications that have required emergency transport for women from Planned Parenthood abortion facilities have been documented by Operation Rescue at over 30 Planned Parenthood facilities in 22 states since 2016. That is just a small fraction of abortion injuries that take place at these facilities, since many women receive emergency care for complications once they are discharged by Planned Parenthood.
Operation Rescue has also documented the abortion-related deaths of Planned Parenthood patients, including Cree Erwin, who died in 2016 after receiving a botched first trimester abortion at Planned Parenthood in Kalamazoo, Michigan, and Tonya Reaves, who bleed to death in 2012 after a second trimester abortion at a Planned Parenthood facility in Chicago, Illinois.
It is expected that the Protect Life Rule will deny about $170 million in taxpayer dollars to Planned Parenthood.
Operation Rescue, which is headquartered in Wichita, Kansas, also commends Rep. Ron Estes (R-KS) for his leadership that contributed to making this life-saving rule change a reality.