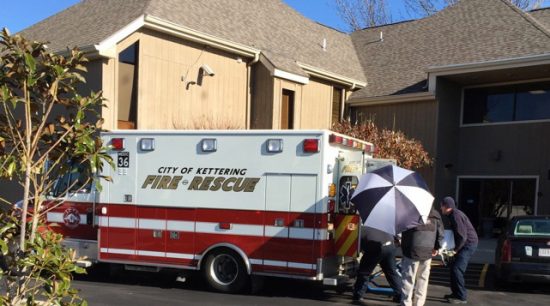 One of the many medical emergencies documented at the Women's Med Center, an abortion facility that conducts abortions throughout all nine months of pregnancy located in Dayton, Ohio.
By Cheryl Sullenger
Columbus, OH — The Ohio Department of Health has denied requests for variances submitted by two abortion clinics citing they failed to meet the minimum requirements that would qualify for them. The abortion facilities had requested that they be exempt from a state law that mandates abortion facilities to maintain hospital transfer agreements.
The Women's Med Center in Dayton and Planned Parenthood in Cincinnati have been unable to qualify for hospital transfer agreements and sought the exemption by submitting an agreement with other physicians to provide emergency care for their botched abortion patients. However, the clinics were unable to secure the required four physicians with hospital privileges who were willing to treat women hospitalized with abortion-related complications.
Without the variances, both facility licenses have been revoked, but the clinics have 30 days to appeal the ruling. Both are allowed to stay open during that time.
This action came as a result of a new Ohio law that requires that the Ohio Department of Health to rule on license renewals and variance requests within 60 days.
Ohio law also requires surgical abortion facilities to have their ambulatory surgical facility licenses renewed annually, but
Operation Rescue documented
that the Ohio Department of Health was slow to act. Records showed that 7 out of 8 surgical abortion facilities were allowed to continue operations even though their licenses have been expired and renewal "pending" for months. The Women's Med Center has been operating on a license that expired on August 31, 2012.
The two abortion facilities earlier filed a lawsuit challenging a law that prohibits publicly funded hospitals from entering transfer agreements with abortion facilities. Most private hospitals refuse to grant such agreements.
A hearing today could determine if the abortion facilities are allowed to continue operating while the legal challenge is pending in court.
"For years now, Operation Rescue has joined Ohio pro-life groups in demanding then end to the abortion clinic variances. If they cannot meet the legal requirements for operation, they should be shut down," said Operation Rescue President Troy Newman. "Abortion businesses should not be held above the law."

Created Equal
had conducted a public campaign to expose physicians who had made agreements with the abortion facilities. This likely contributed to the unwillingness of some physicians to participate in agreements with abortion businesses.
The
Women's Med Center
is owned by late-term abortionist
Martin Haskell
and is nationally known as one of the few abortion facilities that will abort babies in the third trimester of pregnancy. Ambulances are routinely seen by pro-life activists at that facility to transport women suffering life-threatening abortion complications to hospital emergency rooms where hospital staff are forced to provide care. Neither Haskell nor his other abortionists qualify for hospital privileges.
The
Planned Parenthood abortion facility in Cincinnati
is affiliated with Planned Parenthood Federation of America, which is the subject of four Congressional investigations as well as several criminal investigations at the state level over accusations that some of its affiliates are engaged in the illegal trafficking of aborted baby parts for profit. The Cincinnati clinic denies that it participates in that practice.