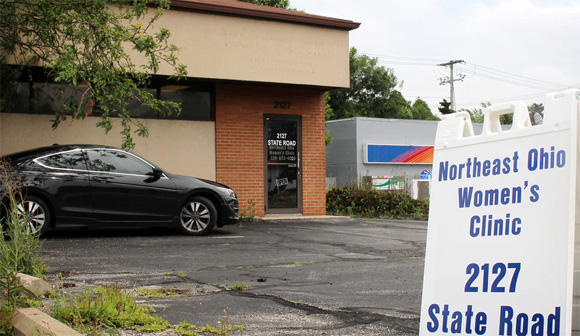 By Cheryl Sullenger
Akron, OH – A letter sent to the Ohio Department of Health from Right to Life of Northeast Ohio reveals lax enforcement of the state's health and safety codes that is allowing a deteriorating abortion facility operating on an expired facility license to expose hundreds of women per year to shoddy conditions and practices that could harm them.
In a letter dated November 10, 2017, Denise Leipold, Executive Director of Right to Life of Northeast Ohio to Lance Himes, Ohio Department of Health Director, called for the closure of the Northeast Ohio Women's Center due to years of violations that endanger patients, including 24-pages of citations found in a July 11, 2017, inspection report.
The Northeast Ohio Women's Center is owned and operated by disgraced abortionist David Burkons, who is serving a six-month suspension of his Ohio medical license for prescribing dangerous controlled substances to friends without noting the prescriptions in their medical records, and for leaving signed blank prescription pads for his employees to fill out.

"While Right to Life of Northeast Ohio is an advocate against abortion, as long as abortion remains legal, we are equally concerned about the welfare and safety of the unsuspecting women who choose to visit locations operated or supervised by individuals like Burkons without being aware of the history of the abortionists or the facility. It should be the duty of the Ohio Department of Health and any other regulatory agencies that have allowed facilities like this to remain in operation in violation of established law to force compliance or order them to close," Leipold wrote.
Leipold revealed that despite his suspended medical license, Burkons is still regularly seen at his abortion facility, raising suspicions that he may be engaged in nefarious activity there. That suspicion is founded in past performance.
The Northeast Ohio Women's Center formerly operated under the name Capital Care Network of Cuyahoga Falls. This facility employed Burkons and a known sex offender, Thomas Michaelis. In June 2013, Capital Care Network was ordered to close due to "extensive health and safety violations and multiple drug offenses," according to Leipold.
Six months later, Burkons purchased the failed abortion facility and reopened it as the Northeast Ohio Women's Center.
"The only thing that changed was the name," Leipold wrote.
That facility was denied an Ambulatory Surgical Facility license after it unsurprisingly failed a licensing inspection. The facility continued supplying medication abortions, which no not require a facility license, until it was finally received an ASF license in 2015.
However, despite the fact that the Northeast Ohio Women's Center's facility license expired on May 31, 2016, and has not been renewed, the abortion business has been allowed to stay open.
[scribd id=364333754 key=key-R5FcMFl3oPLt6RpCzio9 mode=scroll]
On November 29, 2016, the Northeast Ohio Women's Center was issued a 21-page deficiency report with multiple citations affecting the 435 abortion patients that had been seen in the twelve months prior to the inspection. But, there was no timely follow-up visit to ensure that all of the violations were corrected.
A follow-up licensure compliance inspection was finally conducted on July 11, 2017, where 24 pages of violations were discovered, including twelve violations that were cited, but never corrected, after the May 2016, inspection that occurred fourteen months earlier.
Those repeat offenses, which affected 754 abortion patients over the previous twelve months, included:
• The facility's so-called "quality assurance program" was a complete sham. Staff told inspectors that there were never any meetings as required, and a necessary Quality Assurance manual did not exist, despite obviously falsified documentation to the contrary.
• Failure to test staff annually for tuberculosis and failure to follow up on one employee who had a positive TB test in 2013.
• Failure to provide job descriptions to employees.
• Failure to train staff in the proper cleaning of surgical instruments, which resulted in surgical instruments not being properly reprocessed for use.
• Inadequate staff orientation and training, which can cause patient care issues.
• Failure to conduct annual employee performance evaluations.
• Failure to maintain a sanitary and safe facility. Included improper sterilization procedures, sloppy infection control measures, cross-contamination, and surfaces that could not be properly disinfected.
• Infection control audits were not used to improve patient care.
• Additional quality assurance violations, since they did not actually have a Quality Assurance program.
• Failure to implement a program for pro-active assessment of high risk activities related to patient safety and undertake appropriate improvements.
• No evidence the facility's Director of Nursing was qualified for that position.
• Failure to ensure that three registered nurses had the required Advanced Cardiac Life Support certification.
In addition to these repeat offenses, two additional violations were cited.
• Failure to develop a quality assurance plan, hold regular meetings, and set quality improvement goals. Staff confirmed that the facility did not work on quality.
• Equipment for emergency use was expired. While the facility's log indicated the contents of the crash cart had been inspected, expired and outdated supplies remained.
Nevertheless, despite evidence of deteriorating conditions, falsified logs, failure to make promised corrections, an expired facility license, and the suspension of the facility's Medical Director for illegal drug prescription distribution, the Ohio Department of Health has remarkably allowed the Northeast Ohio Women's Center to stay open.
"The situation at Burkon's abortion facility represents a concerning regulatory failure. The meager attempts to discipline this motley bunch at the Northeast Ohio Women's Center has been inadequate to protect the public. The way things are right now, the laws of Ohio regarding abortion businesses have been rendered meaningless," said Troy Newman, President of Operation Rescue. "Health departments in Ohio and elsewhere must come to the realization that abortion businesses are not like legitimate health care facilities. They cannot be treated the same way, and they simply cannot be trusted with the honor system when it comes to correcting problems."
But the scandal does not end there.
Burkons also serves as medical director at Preterm, the Cleveland abortion facility where Lakisha Wilson died as the result of an avoidable botched late-term abortion in March 2014. Preterm has also been the site of multiple medical emergencies that have been exacerbated by a frequently malfunctioning elevator and sloppy patient care practices.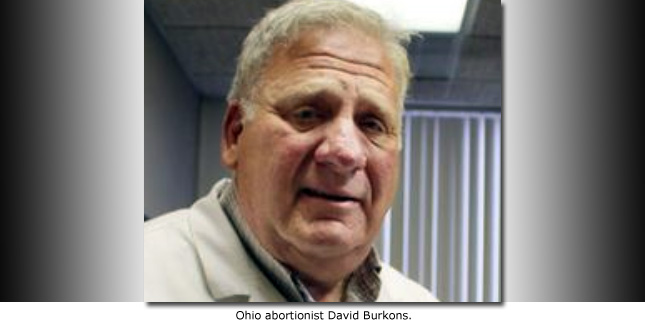 Burkons is also affiliated with the Toledo Women's Center/Capital Care Network, which has been in the news due to its failure to maintain a required hospital transfer agreement that resulted in a Department of Health closure order. Toledo Women's Center appealed the closure order and has been allowed to stay open.
On April 1, 2017, a facility employee was caught transferring a woman with a suspected bowel perforation and incomplete abortion from the abortion business to the hospital emergency room in an employee's private vehicle in order to avoid having the medical emergency discovered ahead of its hospital transfer agreement case being heard before the Ohio Supreme Court. A letter of intent to fine the abortion facility $40,000 for the mismanaging the medical emergency was issued on August 21, 2017. Yet, the facility falsely argued in court on September 12, 2017, that it hadn't experienced a medical emergency that required an ambulance transfer in years.
This highlights another regulatory issue that is keeping Burkons in business and the shoddy abortion facilities with which he is involved operating.
The appeals process in Ohio allows unsafe abortion businesses that cannot comply with licensing regulations to remain open for years while appeals filed by abortionists wind through the court system at a glacial pace.
While the Ohio Department of Health has attempted to cite abortion facilities, discipline offending abortionists, and shut down facilities that cannot or will not comply with the law, those efforts have been stymied by an appeals system that benefits the offenders at the expense of vulnerable patients. Abortionists long ago learned how to game the system to stay open almost indefinitely without the inconvenience of bringing their substandard facilities into compliance.
"We join Right to Life of Northeast Ohio in calling for the immediate closure of Northeast Ohio Women's Center on an emergency basis," said Newman. "We also urge the Ohio Department of Health to work with the Legislature to amend their outmoded enforcement protocols that leave dangerous abortion facilities up and running for years while unsafe conditions and practices persist."
Read the Nov. 10, 2017, letter from Leipold to ODS Director Lance Himes.