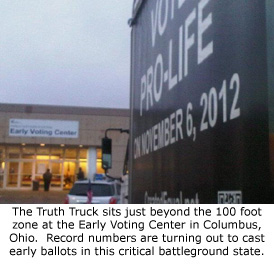 Columbus, OH – The Ohio Prayer for Life Tour, led by Troy Newman of Operation Rescue and Rev. Pat Mahoney of the Christian Defense Coalition, started the day at the Early Voting Center in Columbus, Ohio, praying for a record number of citizens who are casting their ballots early.
The Truth Truck, adorned with signs urging Ohioans to vote pro-life, parked just across the 100 foot line that is meant to create a no-politicking zone around the polling place. Outside the zone, free speech rules with both sides vying for each precious vote in a state that is literally a toss up.
"Most of the voters going in are Obama supporters so it should be an interesting morning. I think they need to know what this President supports. It should be an interesting morning! Pray for us!" posted Rev. Mahoney on his Facebook page this morning.
Troy and Pat will participate in a prayer rally at City Hall in Dayton beginning at noon today. City Hall is located at 101 West Third Street in Dayton.
Polls show that Romney is surging in Ohio, a state that is considered critical to a GOP victory. The latest Rasmussen Poll released on Monday shows Romney up by 2 percent, but the race is just too close to call.
"In spite of cold rain and high winds, the enthusiasm and energy here is strong. There is a sense that we are making history in Ohio," said Newman.
"We remain very concerned about voter fraud and vote tally manipulation. We are working around the clock in Ohio to get out the pro-life vote and pray for God's hand on the election outcome. With just a few days left, this is the final push!"
Please consider supporting this crucial effort with a generous donation to Operation Rescue.
The news story below gives an indication of the atmosphere outside the Early Voting Center. Please join us in prayer for "Vote Pro-life" efforts in Ohio and across the nation.