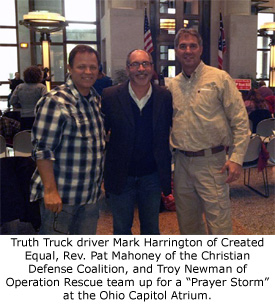 Columbus, Ohio – Hundreds of Christians turned out in Columbus yesterday to pray for the upcoming Presidential Election on the first day of the Ohio Prayer for Life Tour. They were joined by Troy Newman, President of Operation Rescue and Pro-life Nation and Rev. Patrick Mahoney, Director of the Christian Defense Coalition. The two are touring the critical swing state for the week, praying and rallying Christians to vote pro-life.
Yesterday began with the distribution of pro-life literature to several churches in the Columbus area, followed by a "Prayer Storm" in the Capitol Atrium and a Prayer Rally at a local church where Rev. Mahoney was a featured speaker.
This morning started out early praying in Columbus near an early polling site, praying for protection against voter fraud in a state where each and every vote will count. The most recent polls show that Romney and Obama are tied at 49% each.


After prayer at another early polling site in Westerville, Troy and Pat are headed to Cincinnati for more prayer events. Cincinnati is the home of the notorious late-term abortionist Martin Haskell, who is known to flex his own political muscle through campaign contribution to Democratic/pro-abortion politicians.
Please join us in praying today for the following requests:
• Pray for safety for Troy and Pat as they travel throughout Ohio, which is feeling the effects of Hurricane Sandy. Troy reported this morning that they were driving through 60 mile an hour winds and heavy rain.
• Pray for protection against voter fraud, which is a real concern in such a close election. Pray against fraudulent voting by unqualified voters and against vote tally manipulation.
• Pray that conservative Christians would turn out to vote in record numbers.
• Pray that the truth about the issues would not be suppressed by a liberal media that is attempting to manipulate public opinion.


Please join our Ohio Prayer for Life Tour Facebook group at https://www.facebook.com/groups/OhioPrayerTour/. Updates and meeting times and places will be posted there by Troy and others throughout each day.
To financially support this critical prayer and pro-life "get out the vote" effort, please click here.