You Can Help
By Anne Reed

Columbus, Ohio — Citizens of Ohio will have the opportunity to vote on Issue 1 in the state's general election on November 7. Issue 1 is a dangerous proposition that would accomplish two very destructive objectives in Ohio: 
1) Make it legal to kill a child through all nine months of pregnancy (joining eight other states that have already done so)
2) Abolish parental rights
The Ohio Supreme Court issued a ruling last month allowing language in the Issue 1 ballot summary confirming that passage of the measure would allow killing of "unborn children" up to birth. The Ohio highest court decision was made after abortion supporters sued in an attempt to force language that would have dehumanized the babies killed in abortions. They claimed using the term "unborn children" would introduce "an ethical judgment," that would constitute "improper persuasion."
Also, despite claims that Ohio's proposed ballot initiative would not abolish parental rights, social media posts by a group in support of the ballot measure have revealed the truth.
Below is a Twitter post by Unite for Reproductive & Gender Equity (URGE). URGE is a member of the Ohioans for Reproductive Freedom coalition, a group pushing for the passage of Issue 1. URGE has been very open about its aim to abolish parental rights, clearly stating, "It's time to END parental involvement laws" on social media.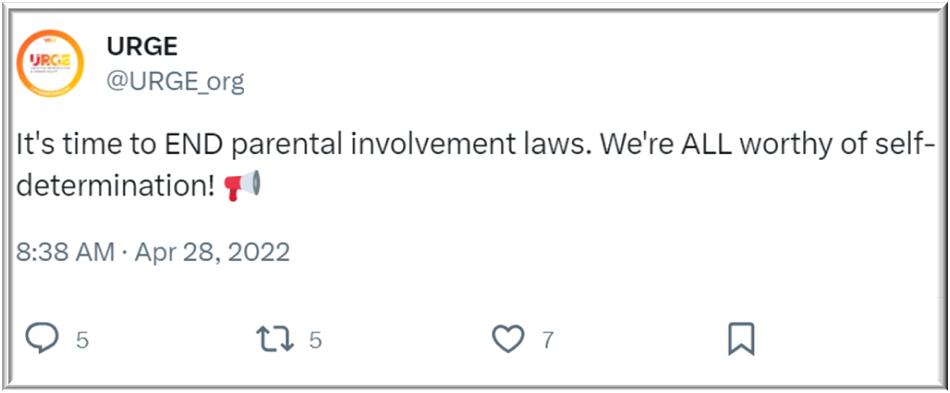 Another Twitter post stated, "We need policies that get rid of parental involvement laws so that young people can access abortion without unnecessary restrictions."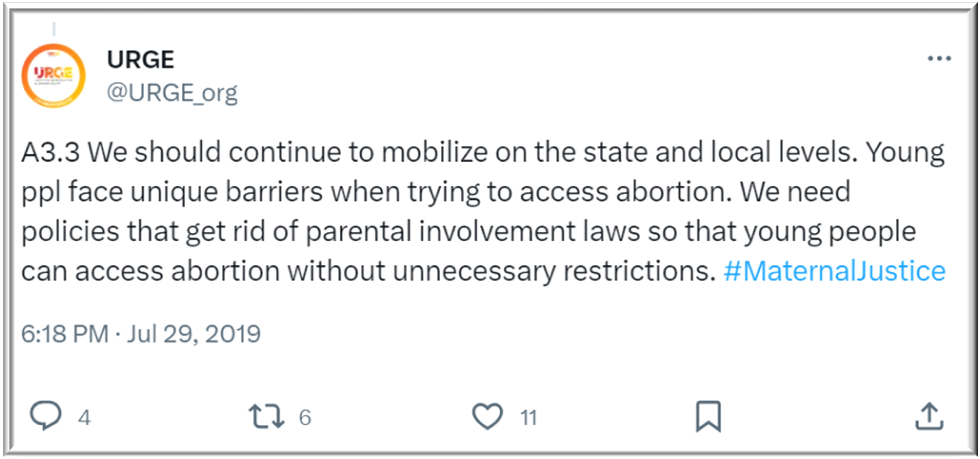 URGE's extreme views don't end with abortion. The organization supports the concept of allowing doctors to assist minors with "gender-affirming surgeries and care" and opposes laws that would require that school personnel notify parents of their child's gender dysphoria.
The ACLU's involvement in Ohio's ballot initiative is not surprising. It has a long history of working in states across the country to systematically dismantle parental consent and notification laws. The national organization has even admitted Ohio's Issue 1 ballot initiative puts parental rights at risk.
"These groups have already clearly shown the American people that they hate families," said Operation Rescue President Troy Newman. "We know why these organizations are involved in efforts to pass a constitutional amendment that would attempt to dismantle God's first ordained institution – the family. What better way to destroy the family than to usurp parental authority and then destroy innocent babies that would be born into those families – adding joy and purpose?"
"To these organizations, it doesn't matter which state they attack, only that they are attacking. If it's not our state today, it could be tomorrow. We must help Ohio citizens, families, and the most innocent of all family members – babies in the mother's womb.


Call to Action:
Ohio Citizens Voter Registration:
If you are an Ohio resident, the deadline for registering to vote is fast approaching – Tuesday, October 10, 2023. CLICK HERE to register, and see other valuable information about early voting, etc.
Anyone Can Help:
Like, retweet, and share Protect Women Ohio's posts on X (formerly TWITTER) | FACEBOOK | INSTAGRAM
Boots on the Ground or Phone Calls:
Protect Women Ohio Action, Created Equal, and Susan B. Anthony Pro-Life America have made opportunities available to help our Ohio brothers and sisters.