Operation Rescue files complaint against clinic for advertising surgical abortions without being licensed to do them. RU-486 abortion pills already being dispensed.
By Cheryl Sullenger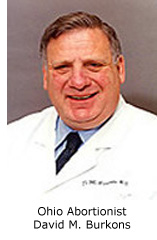 Akron, OH – A former Planned Parenthood abortionist who is responsible for nearly 41% of medication abortion complications in Ohio has reopened and renamed an abortion clinic closed by the state last year for serious health and safety code violations that went uncorrected.
David M. Burkons continues to dispense RU-486 abortion pills at the former Capital Care Network — now named the Northeast Ohio Women's Center — in Cuyahoga Falls, outside Akron, Ohio. He has filed an application to obtain a license to conduct surgical abortions with the Ohio Department of Health, which discovered 34 pages of deficiencies at that facility in February, 2013, and ordered it closed in April after the deficiencies went uncorrected.
Violations that posed a danger to the public included:
• Hiring employees who lacked training and proper qualifications.
• Unqualified employees routinely dispensing controlled substances to patients.
• Logs for controlled substances not properly maintained.
• Missing drugs.
• Expired pharmacy license.
• Shoddy lab practices resulting in dubious test results.
• Failure to maintain proper sanitizing methods in surgical areas.
• Illegible or incomplete medical records that revealed a lack of patient monitoring.
• Lack of evidence of informed consent.
• No evidence that some sedated patients had transportation by another person as required upon discharge.
• No Registered Nurse assigned to surgery as required, affecting at least 19 patients.
• Lack of mandatory Advance Life Support Certification for surgical and recovery room employees.
• Failure to maintain a "Quality Assurance" program at the facility.
• Lack of new employee training and staff evaluations.
• Lack of infection control training.
• Lack of a tuberculosis control plan.
• Employee time card irregularities lending to conditions ripe for financial malfeasance.
• Failure to provide credentialing information for one abortion provider.
• Complicated lock on the exit door used for emergencies which could delay emergency care.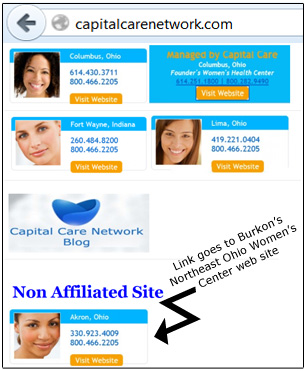 "Burkons worked part time at the facility at the time when the deficiencies were discovered. That makes him part of the problem," said Troy Newman, President of Operation Rescue. "Burkons has apparently subscribed to the 'Steven Brigham abortion business model.' Like Burkons, when Brigham's abortion clinics were busted and shut down for being unsafe, he merely reopened them under another name and kept doing business as usual."
In fact, similarities of Burkon's operation to shoddy practices employed by the notorious New Jersey abortionist Steven Chase Brigham are troubling.
After Brigham was ordered to close abortion clinics he operated in Pennsylvania, like Burkons, he formed a new company and distanced it from his original operation, yet continued to solicit business for those clinics on his central business web site. Just last year, Brigham opened an abortion clinic in Philadelphia under yet another name, but was forced to close it once his connections to the clinic were discovered.
Burkons continues to operate what he now calls the Northeast Ohio Women's Center through a new LLC filed with the Secretary of State in December, 2013. However, Burkons continues to use the old Capital Care Network phone number and his clinic continues to be advertised on the Capital Care Network web site. Both Brigham and Burkons claim their reopened clinics are "unaffiliated" from the old abortion business, an excuse the State of Pennsylvania rejected in Brigham's case.
Burkons occupies the Cuyahoga Falls office under the old Capital Care Network lease, which expires in August, 2014. No new lease was written for Burkons or his Northeast Ohio Women's Center.
To make matters worse, Operation Rescue discovered that Burkons was advertising surgical abortions on his Northeast Ohio Women's Center website, which provided appointment information even though he has no license to do such abortions. Operation Rescue filed a complaint with the ODH last month about this deceptive advertising and the possibility that he is conducting illicit secret surgical abortions without a license.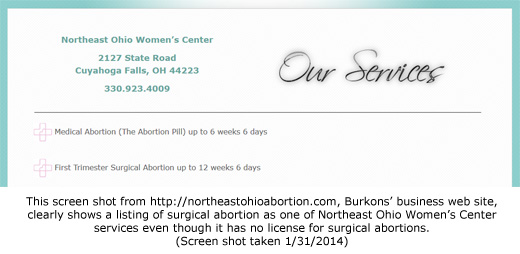 "Authorities have called out Brigham for his deceptive practices in keeping his abortion mills open under the ruse of a new business. That ploy also failed for abortion clinic owner Diane Derzis, whose Birmingham, Alabama, abortion clinic, New Woman All Women, was finally closed down by a judge that also was wise to this deception," said Newman. "We hope that the Ohio Department of Health sees through this scam and denies Burkons' license to conduct surgical abortions."
But even if the ODH denies Burkons surgical abortion facility license, he could continue to dispense the RU-486 abortion pill without any accountability. This could pose a danger to the public since his facility would not have to meet any basic safety requirements whatsoever.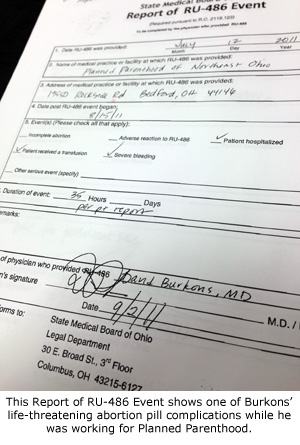 Operation Rescue has obtained 42 "Report of RU-486 Event" reports that were filed with the State Medical Board of Ohio between April, 2011, and February, 2013, noting complications from medication abortions. Of those reports, 17 – or nearly 41% — indicated that the abortionist responsible for these complications over a 16-month period was none other than David Burkons.
Complications noted on the Burkons RU-486 Event Reports include:
• 13 incomplete abortions
• 1 incident of blood clots requiring surgical aspiration
• 1 serious infection
• 2 incidents of severe bleeding that resulted in the emergency hospitalization of one patient who required a transfusion.
"It's clear that Burkons is operating inside a regulatory gap that needs to be sealed up by Ohio legislators," said Newman. "With his history of medication abortion complications, there's no way he should be dishing out abortion pills, especially in a clinic that was reamed by the ODH for serious violations that were never corrected. His dangerous abortion operation should be closed permanently in order to protect women from his Brigham-like risky and deceptive practices."
Interested citizens may express their concerns about David Burkon's Northeast Ohio Women's Center abortion clinic to the Ohio Department of Health.
Dr. Theodore Wymyslo, Ohio Department of Health
E-mail: Director@odh.ohio.gov
Phone: 614-466-2253
[Thanks to Denise Leipold, Executive Director, Right to Life of Northeast Ohio, and Denver Sallee, Co-Chairman HELP the Pro-Life Apostolate and President Lake County Right to Life for providing information for this report.]