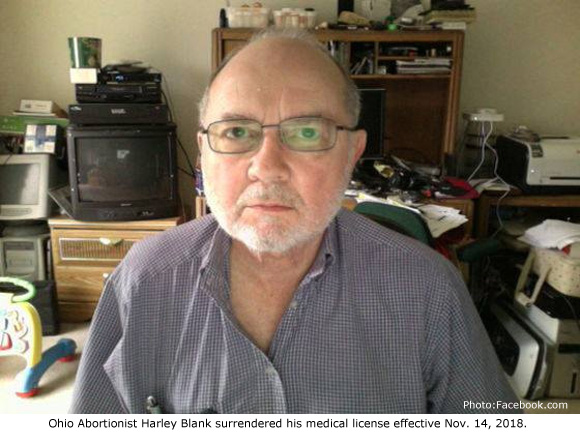 By Cheryl Sullenger
Columbus, Ohio – Ohio abortionist Harley Blank has had his medical license permanently retired and voluntarily surrendered effective November 14, 2018, according to documents released by the Ohio Medical Board.
The documents further stated that Blank's decision to surrender his license was "in lieu of formal disciplinary proceedings."
Blank, an ObGyn admitted that he violated provisions of the Ohio Administrative Code related to prescribing controlled substances to men without keeping charts or patient records on them.
Blank added that it was also his desire to surrender his license after fifty years of practice.
Blank worked as an abortionist at Founder's Women's Health Care in Columbus, Ohio.
In 2015, Operation Rescue filed a formal complaint against Blank for failing to maintain medical malpractice insurance as required by law, and for patient care standard violations related to a misdiagnosis of an ectopic pregnancy.
Blank had assured the patient she did not have an ectopic pregnancy and that her pregnancy was in her uterus. He then went through the motions of performing a first trimester abortion on her. It later became apparent that the patient was experiencing a dangerous cornual pregnancy, in which her pregnancy was growing inside the portion of her left fallopian tube that lies within the wall of the uterus. After the fallopian tube separated from the uterus and ruptured, the patient was rushed to the hospital suffering seizures and intense pain. She was left never able to bear another child.
Operation Rescue's complaint appeared to be related to Blank's agreement to relinquish his medical license.
Greater Columbus Right to Life (GCRTL) also had filed numerous complaints against Blank for various violations.
In a statement released on November 28, 2018, GCRTL stated, "We have known for a considerable amount of time that Founder's is not a safe place for women or their unborn children, and we have observed increasingly erratic behavior on the part of Dr. Blank, who joins another Founder's abortion provider – who is currently serving time in federal prison for child pornography – as having his medical license permanently revoked."
"We are relieved that Harley Blank will never conduct another abortion nor will he hurt another woman," said Operation Rescue President Troy Newman. "We are grateful for all the hard work of our friends at Greater Columbus Right to Life to bring him to justice and our friends at Created Equal for exposing his misdeeds across Ohio as well as everyone who ever took a shift at Founder's or prayed for Blank's repentance. This is a victory for us all!"
View Blank's Retirement/Surrender Agreement.