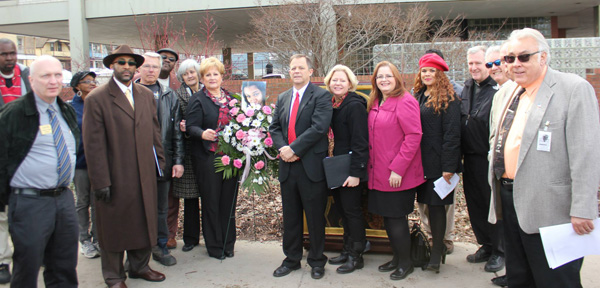 Press conference participants outside Preterm in Cleveland, Ohio, April 2, 2014.
Cleveland, Ohio – Gathered around a spray of pink and white flowers that held a photo of Lakisha Wilson, state and national pro-life leaders conducted a press conference yesterday outside Preterm, the Cleveland abortion clinic where Wilson died. The leaders made a unified call on the Ohio Department of Health to suspend Preterm's abortion facility license pending a full investigation.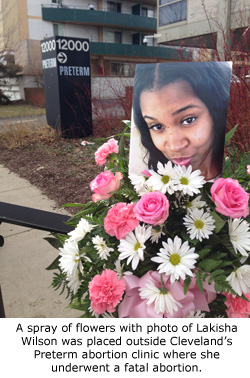 But what participants did not know at the time was that while they addressed the media before a large gathering of pro-life supporters, officials from the Ohio Department of Health were inside the facility conducting a preliminary investigation. One news station reported that the officials were at the abortion clinic for most of the day.
In further developments, Molly Smith of Cleveland Right to Life informed the crowd that Governor John Kasich has been asked to instruct the Attorney General's office to investigate Wilson's death due to concerns that her abortion may have been done illegally.
It is now also being reported that Wilson was five months pregnant at the time of her abortion on March 21.
A source informed Operation Rescue that Wilson was turned away from two other clinics due to the advanced stage of her pregnancy. The legal limit for abortions in Ohio is 20 weeks gestation.
The pro-life press conference featured Cheryl Sullenger of Operation Rescue, who told reporters, "It is clear that if pro-life groups had not discovered Lakisha's death, it would have been covered up and swept under the rug. How many other women have died from shoddy abortion practices at Ohio abortion clinics? The truth is that no one knows. This kind of cover up only adds to the illusion that abortion is safe so that the next unsuspecting woman who walks in those doors has no idea she could end up in an early grave."
Operation Rescue's Troy Newman confirmed today with the Cuyahoga County Medical Examiner's office that there continues to be no determination of the cause of Wilson's death. The body was released to the family for burial.
Earlier, Operation Rescue filed complaints with the ODH and with the Ohio Medical Board asking for full investigations and disciplinary action. Ohio Right to Life today encouraged its supporters to all file complaints with the Medical Board against each of Preterm's known abortionists, Mohammad Rezaee, Lisa Perriera, and Rebecca Lowenthal.
"We would like to thank each and every pro-life person who attended the press conference, either as a speaker or as a supporter. Together, we made a powerful statement to the media of our care for Lakisha and her grieving family and our determination not to rest until justice through legal channels has been accomplished," said Sullenger.
In addition to Sullenger, Smith, and Leipold, speakers at the press conference included Dr. Day Gardner, National Black Pro-Life Union, Rev. Arnold M. Culbreath, Urban Outreach Director of Life Issues Institute, Inc., Pastor Walter Moss, Pastor Dale Henkel, Janet Porter of Faith2Action, Denver Sallee, and Mark Harrington of Created Equal.
View background with video and 911 call and the CAD transcript.
News video below.