UPDATE [posted Aug. 10, 2015]: On October 24, 2015, a North Carolina court dismissed rape charges discussed below, against Ron Virmani for insufficient evidence. This dismissal is not necessarily proof of innocence, but as the documents state, "Proving the crimes charged beyond a reasonable doubt to a jury would be unlikely." Read the dismissal documents. On April 17, 2015, the court expunged this case from Virmani's record. View expuncion documents.
__________
By Cheryl Sullenger

Charlotte, NC – An abortionist with a history of "improper sexual relations with a patient" was arrested in the early morning hours of May 8, 2014, and charged with raping a woman at his Charlotte, North Carolina, home.
Ashutosh "Ron" Virmani, who is employed as an abortionist at the Preferred Women's Health Center abortion clinic, allegedly invited the victim to his home where he raped her and refused to let her leave. The woman eventually got away and notified police, who arrested him at his home.
Virmani was charged with one count of Felony Second Degree Rape and two counts of Felony Second Degree Sexual Offense. He is set for arraignment at the Mecklenburg County Court in Room 1150 this afternoon.
"Based on Virmani's rape arrest and his documented history of improper sexual conduct, we strongly believe that he poses a danger to the public, especially in his line of work where he has access to vulnerable women. We call on the North Carolina Medical Board to take emergency action to immediately suspend his medical license until a full investigation of this horrific crime and be completed," said Troy Newman, President of Operation Rescue.
In 1992, Virmani admitted to having an improper sexual relationship with a patient. He was ordered to surrender his license and was placed on a conditional permit to practice for six months and ordered to consult with a "psychiatrist knowledgeable in the area of boundary problems."
"This is the second time in in a week that we have been reminded that sexual crimes committed by abortionists are more widespread than some might think. It is the dirty little secret of the abortion cartel," said Newman, referring to a report issued by Operation Rescue on May 2, 2014, detailing the sexual misconduct of a former Planned Parenthood abortionist Roger Ian Hardy and a list of other abortionists.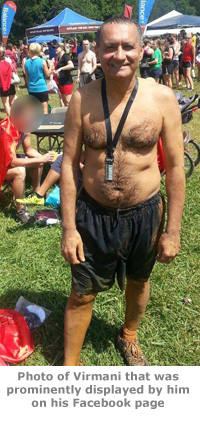 In 2007, Virmani was issued reprimands by North Carolina, New Jersey and Pennsylvania for pre-signing prescriptions, which were then filled in and distributed by unqualified workers without oversight by unlicensed office staff.
In March, 2014, Operation Rescue's Abortion Whistleblowers Program received information from a confidential informant that indicated Virmani had "threatened" her and that she feared filing a complaint against him in her own name. However, Operation Rescue took no action due to a lack of documentation.
The abortion clinic where Virmani works was temporarily closed in May, 2013, by the North Carolina Department of Health and Human Services after failing a second inspection in four months and posing a threat to public health. The Division of Health Service Regulation (DHSR) summarily suspended PWHC's certificate to operate based on an inspection conducted in response to a complaint. The DHSR's finding stated:
This Summary Suspension is based on this agency's findings that conditions at A Preferred Women's Health Center, LLC, present an imminent danger to the health, safety and welfare of the clients and that emergency action is required to protect the clients.
According to an inspection report conducted on April 20, 2013, the clinic was found to be improperly dispensing an abortion drug, Methotrexate, in a dangerous manner contrary to manufacturer's specifications. It also found that the abortionists failed to properly inspect and document the abortion remains to ensure complete abortions. After making corrections, the clinic was allowed to reopen.
Virmani also drew public scrutiny in July, 2012, when he was recorded on a racist rant, telling pro-life activists, "Let me see you adopt one of those ugly black babies, ok?"