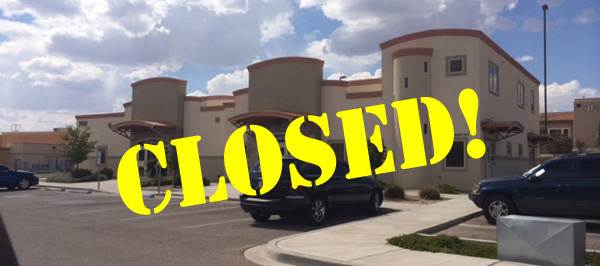 By Cheryl Sullenger
Las Cruces, NM – In an effort to evade Texas laws in 2014, the Texas-based Whole Women's Health abortion chain established an abortion facility in Las Cruces, New Mexico, where abortion laws are virtually non-existent.
Now, after less than three years of intense prayer and outreach, the Coalition for Life of Las Cruces has announced that as of January 25, 2017, the abortion business has packed up their office, stripped the building of their signage, and moved out.
The Whole Women's Health of Las Cruces is the third surgical abortion facility to close in the U.S. in 2017. It is also the third New Mexico abortion facility to shut down in the past six years.
After the 2013 enactment of Texas' abortion facility licensing law, HB2, Whole Women's Health and other abortion businesses were forced to shut down several of its Texas locations that failed to comply with the new law.
In an effort to recoup financial losses, Whole Women's Health set up shop in Las Cruces, New Mexico, just over the state line from El Paso. In addition to taking advantage of lax regulation, the abortion business also referred minor girls from Texas across state lines to Las Cruces for abortions where they would not have to obtain parental consent, which is required in Texas.
It seemed like the perfect solution for the abortion chain – until pro-life activists got wind of their plans.
Pastors Manny and Grace Lardizabal of Albuquerque immediately led a prayer team to Las Cruces and covered the community and border area with prayer. When they showed up at the facility on its announced first day of business, the facility had failed to open.
Operation Rescue, working with New Mexico activists Bud and Tara Shaver and Martha Beasley, and others discovered that the Las Cruces abortion facility had later quietly opened through what appeared to be deception and in violation of zoning laws. However, the City of Las Cruces ignored the zoning issues and allowed the abortion facility to remain open.
Local activists with the Coalition for Life of Las Cruces banded together and maintained a large and powerful presence at the Whole Women's Health, which likely contributed to the decision to close the facility. The group promised in a written statement to remain vigilant and prevent any other abortion facility from opening in that community.
"Financial issues drove Whole Women's Health into New Mexico, and it is likely that financial issues also drove them out," said Troy Newman, President of Operation Rescue. "Abortion numbers are down and the border area is over-saturated with abortion facilities after the courts allowed two El Paso abortion businesses to reopen a couple of years ago. There just isn't enough demand for abortions, which in itself is an answer to prayer."
Operation Rescue congratulates everyone who worked and prayed for the closure of the Las Cruces abortion business. Prayers have been answered!