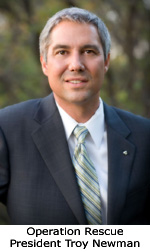 Kansas City, KS — Operation Rescue President Troy Newman is scheduled to speak at the Constitution Party Convention on Friday, April 25, 2008. The political convention, which begins today and runs through Saturday, is being held at the Kansas City Marriott Hotel Downtown, located at 200 West 12th Street, Kansas City, Missouri.
Operation Rescue will also have a book table at the convention on Friday only, featuring Newman's book Their Blood Cries Out. Convention-goers are encouraged to visit the table, where there will be an opportunity to speak with Newman and other members of the Operation Rescue staff.
For more information about the Constitution Party, or to attend the convention, please click here.