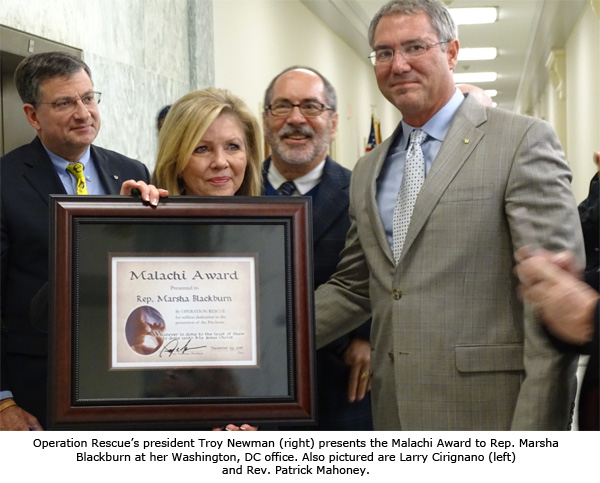 By Cheryl Sullenger
Washington, DC – A presentation of Operation Rescue's Malachi Pro-Life Person of the Year Award was made on January 24, 2017, to Rep. Marsha Blackburn at her office in Washington, D.C. Troy Newman, President of Operation Rescue made the presentation.
Joining the ceremony were a number of pro-life leaders, including Rev. Patrick Mahoney, Director of the Christian Defense Coalition; Fr. Frank Pavone, Director of Priests for Life; Mark Harrington, Director of Created Equal; Fr. Terry Gensemer, Director of CEC for Life, and others.
Blackburn was selected to receive the award in recognition of her work as Chairman of the House Select Investigative Panel on Infant Lives, which conducted a year-long investigation into allegations that Planned Parenthood and others participated in the illegal sale of aborted baby remains. Under her leadership, 15 criminal and regulatory referrals were made by Blackburn's committee, seeking prosecutions of several Planned Parenthood organizations, organ procurement companies, and other abortion providers.
The Malachi Award is given by Operation Rescue every year to recognize individuals who sacrificially work to advance the cause of protecting the pre-born.