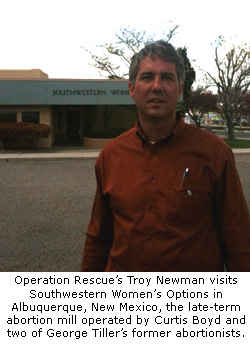 Albuquerque, NM – Operation Rescue's Troy Newman is in Albuquerque, New Mexico, today meeting with pro-life leaders, including clergy, activists, and politicians. The purpose of the meetings is to strategize about future efforts to close the late-term abortion business set up here after the largest late-term abortion clinic in the nation closed last year in Wichita, Kansas.
The Albuquerque clinic is owned by Texas abortionist Curtis Boyd, who famously brags about conducting illegal abortions prior to Roe v. Wade. Boyd has recently hired two late-term abortionists, Shelley Sella and Susan Robinson, who were formerly employed by the nation's largest late-term abortionist, George Tiller, prior to his death.
"There is an effort to try to recreate Tiller's late-term abortion business here in New Mexico, and we fully intend to oppose it," said Newman. "Operation Rescue will continue to work through all peaceful and legal means to bring an end to barbaric late-term abortions on viable babies. We plan to work with the wonderful pro-life community here, which is already taking steps to embed a regular presence outside Boyd's abortion mill."
Just after being contacted by Operation Rescue, Rev. Stephen Imbarrato, president of Project Defending Life in Albuquerque, led a group of activists and sidewalk counselors in prayer and outreach outside Boyd's Southwestern Women's Options abortion clinic. He reported that two of the first four patients they spoke to that day changed their minds about abortion and made decisions to keep their babies.
Newman reports that meetings in Albuquerque thus far have been very encouraging.
"The people here fully understand the implications of Boyd's late-term abortion business, and how this could make their community the new Abortion Capital, drawing women from every state and abroad for dangerous late-term abortions that are either not available or are illegal elsewhere," said Newman.
Abortion laws are particularly lax in New Mexico, more so than in Boyd's home state of Texas, or in Kansas where late-term abortions have now ceased. The lack of abortion restrictions has made New Mexico an attractive haven for late-term abortionists who seek to avoid accountability to the law.
"We will do all that we can to provide support and guidance to the local pro-life community in Albuquerque," said Newman. "We look forward to a fruitful partnership with them as we work together to protect innocent babies from a brutal death by abortion."