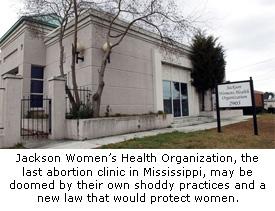 Jackson, Mississippi – Gov. Phil Bryant signed a new law Monday that will add a layer of protection for women against shoddy abortion practices. The new law will require abortionists to be board certified in obstetrics and gynecology and maintain hospital privileges at a local hospital.
Because the Jackson Women's Health Organization, the last abortion clinic in Mississippi, cannot meet the new safety requirements, it may be forced to close. Abortion groups like Planned Parenthood have voiced opposition to the law because it could make Mississippi an abortion free state.
The new law was the result of collaboration between Troy Newman, President of Operation Rescue and Pro-Life Nation and Terry Herring of the Pro-Life America Network.
The Jackson Women's Health Organization is owned by Diane Derzis, the same woman who owns New Woman All Women abortion clinic in Birmingham, which was recently issued a 76-page deficiency report after inspections at the clinic, then ordered it to close by the Alabama Department of Public Health after pro-life supporters reported two abortion emergencies there in January. Derzis employs some of the same abortionists at JWHO as she has in Birmingham. There is every reason to believe that the same policies and procedures that caused the closure order for NWAW exist at JWHO.
"We see many abortionists traveling from state to state doing abortions and leaving women without proper medical follow up or emergency care. That would not be allowed for a veterinarian clinic and should not be tolerated for women. Abortion clinics that refuse to comply with even the most minimum safety requirements debase women and send the shameful message that the lives of women aren't worth the extra precautions," said Newman.
"Opposition to these simple safety measures reveals the abortion cartel's lack of respect for the health and safety of women and the exploitative nature of the abortion industry. Abortion clinics fight safety rules like this because they routinely cut corners on women's safety to enhance their profit margins. We are not surprised that they would fight to keep their seedy operations as unaccountable as possible.
"We congratulate Terri Herring on this great pro-life victory and thank the Mississippi Legislature and Gov. Bryant for having the compassion for women to enact this common-sense legislation."
The law is set to go into effect on July 1, 2012.