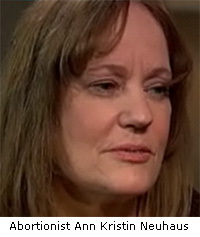 Topeka, KS – New documents have surfaced that show the Kansas State Board of Healing Arts (KSBHA) believes that disgraced abortionist Ann Kristin Neuhaus improperly practiced medicine on an exempt license, stonewalled on her work history, then attempted to mislead the Board with conflicting information about her medical practice after her license was placed on exempt status.
A hearing to consider reinstatement of her currently "exempt" license that had been scheduled for Thursday, March 8, 2012, has been put on hold in light of the Initial Order issued last month revoking her license. Administrative Judge Edward J. Gaschler issued the revocation order after he determined that Neuhaus was guilty of incompetence and unprofessional conduct related to illegal late-term abortion referrals to George Tiller's now closed Women's Health Care Services. That order is due to be finalized by the full Board on April 13, 2012.
Neuhaus had petitioned the Board last year to have her medical license restored to "active" status even though there was an 11-count disciplinary petition pending against her. Finalization of her revocation order in April is expected to render her reinstatement efforts moot.
Rumors had circulated that Neuhaus was in a hurry to reinstate her license because she was involved with former Tiller lobbyist Julie Burkhart in plans to reopen an abortion clinic in Wichita. Those plans have since stalled. Wichita has been abortion-free since the closure of Tiller's clinic in 2009.
According to Board documents recently published on a website sympathetic to Neuhaus, KSBHA attorneys responded to Neuhaus' application with allegations that she continued to practice medicine even though her exempt license status prevented her from legally doing so. When asked to submit her work history to the Board, she first refused, then finally submitted her history through an attorney that was conflicting as to the dates and type of work Neuhaus was doing between July and September, 2010. The Board had to issue a subpoena for her employment records to determine the truth. Kansas law gives the Board authority to revoke licensees who commit such violations.
"Neuhaus is her own worst enemy," said Cheryl Sullenger, Senior Policy Advisor for Operation Rescue who filed the complaint that led to Neuhaus' revocation order. "She just can't keep herself from breaking the law. Traditional discipline hasn't worked with her and she continues to behave in defiance to laws because she considers herself above them."
That defiant attitude was more than evident during Neuhaus' own testimony during her disciplinary hearings last year where she stated, "I'm here to comply with the law, but once I step into the clinic, my own priorities take precedence."
"Her long history of shoddy medical incompetence and the attitude that laws are subservient to her own priorities make her a danger to the public," said Sullenger. "The women of Kansas will be safer once she is officially drummed out of the medical profession for good."
Other documents made public by Neuhaus supporters include full transcripts of her Inquisition Deposition taken by the office of former Attorney General Phill Kline in 2006, a transcript of her testimony at Tiller's 2009 criminal trial, a transcript of her KSBHA disciplinary hearing in 2011, and the deposition and report of KSBHA expert witness Dr. Liza Gold. Those documents are now available on Neuhaus' profile page on AbortionDocs.org.