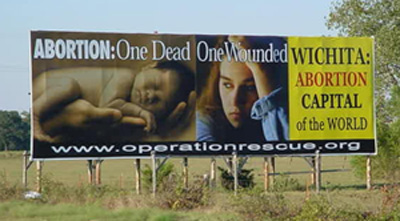 Oklahoma City, OK — Operation Rescue has been given a large billboard off the busy I-35 just south of Oklahoma City. The board, which has been donated for one year, is positioned along the main route taken by Texas women who travel frequently to Wichita for abortions at George Tiller's late-term mill, Women's Health Care Services.
"Recent changes in Texas laws restrict late-term abortions there, so we are seeing many, many women at Tiller's mill coming from Texas," said Operation Rescue sidewalk counselor Cheryl Sullenger. "This billboard will give the women something to think about on that long drive to Wichita. Abortion certainly kills the baby, but sometimes kills or maims the mother as well, and that is not to mention the emotional trauma abortion inflicts upon women. This is something few women consider in their haste to alleviate themselves of a 'problem' pregnancy."
The need for such a billboard has become painfully clear. A Down syndrome teenager, Christin Gilbert, was transported from Texas to Wichita in January for a late-term abortion that killed her. Operation Rescue has also documented several other botched abortions at WHCS that have required emergency hospitalization to save the women's lives. It is unclear if all maternal victims even survived.
"We thank God for this opportunity to speak to women along the I-35 and pray God will bless this effort with saved lives and restored families," said OR President Troy Newman.