By Cheryl Sullenger
Mobile, AL – It is a case the exemplifies the adage "out of the frying pan, into the fire." The Planned Parenthood abortion facility in Mobile, Alabama, suddenly halted all abortion services about two weeks ago, soon after Operation Rescue posted a report concerning the emergency ambulance transport of a 25-year old female patient that experienced vaginal bleeding and abdominal pain after a 10-week abortion. But where they are now referring women for abortions is disturbing.
A recorded telephone call to the Mobile Planned Parenthood facility on May 2, 2017, confirmed that the facility is not currently able to conduct abortions since they no longer have an abortionist on staff. The receptionist indicated that they did not expect to resume abortions until June at the earliest, but even then, their plans were tenuous.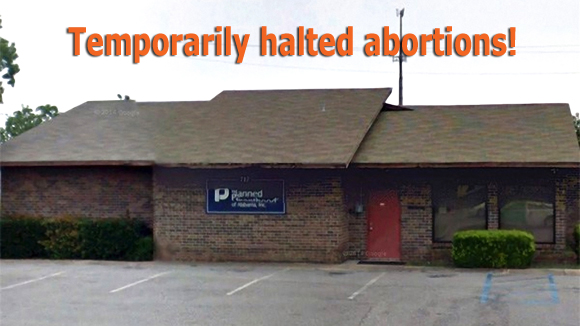 Instead, Planned Parenthood is referring patients to the nearest abortion facility, which happens to be American Family Planning of Pensacola, also known as Integrity Medical Care, located in Pensacola, Florida, which is owned by the notorious New Jersey abortionist Steven Chase Brigham.
Brigham is a disgraced practitioner known for his deceptive and shoddy abortion practices. His medical licenses have been revoked in all six states where he once practiced, including the 1996 revocation of his Florida license. He currently holds no medical license in any state, yet continues to operate a chain of east-coast abortion facilities by employing other troubled abortionists. Brigham also has the distinction of having been ordered by the State of Pennsylvania to never again operate an abortion business in that state – an order he has violated on at least two occasions.
Brigham's Pensacola facility has also had its share of injured abortion patients. For example, on February 19, 2015, one 20-year old abortion patient was injured so badly she suffered a "significant" hemorrhage. In fact, a 911 record related to the injury noted the woman bled so heavily that the ambulance required extensive cleanup.
"The fact that Planned Parenthood refers to a Brigham abortion facility shows they are more interested in seeing a dead baby, even if it means the woman is subjected to substandard conditions and practices," said Operation Rescue President Troy Newman. "In the interest of honesty in advertising, Planned Parenthood should change its motto to 'Dead baby. No matter what.'"
Yet, the Mobile Planned Parenthood isn't much better than Brigham's. In 2015, it was cited by the Alabama Department of Public Health for twice failing to report child sex abuse on behalf of a 14-year old girl who received two abortions within a four-month span of time.
In a 2016 Deficiency Report, the Planned Parenthood facility was cited for numerous violations, including:
• Failure of staff to wash their hands.
• Failure to observe other infection control practices.
• Failure to observe post-op patients for emergency complications.
• Failure to maintain equipment used in patient care.
• Expired drugs and syringes.
• Ceiling tile missing or falling down and holes in the walls.
Planned Parenthood Mobile abortion facility has struggled over the years to maintain an abortionist on staff. In December 2016, Operation Rescue verified that the facility conducted no abortions that month due to the absence of an abortionist. Women were referred to Brigham's Pensacola abortion business at that time as well. It has lost at least four abortion providers of the past two or three years.
"These two troubled abortion businesses make the case that abortion is not health care. A legitimate health care provider would have nothing to do with either one of them," said Newman. "We hope that the Planned Parenthood in Mobile never gets another abortionist and is forced to close, and we hope the same for Brigham's Pensacola abortion facility."