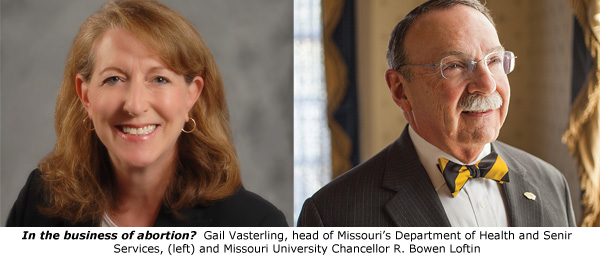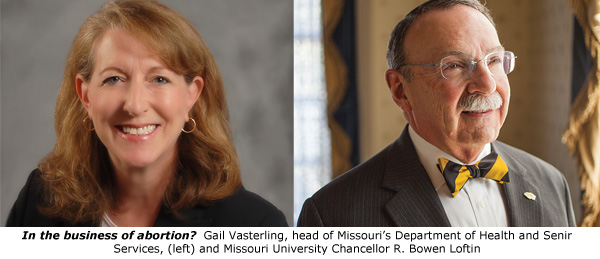 By Cheryl Sullenger
Columbia, MO – Missouri University is trying hard to distance itself from Planned Parenthood these days, and it's no wonder given the public's moral outrage over a series of undercover videos that show the abortion giant callously haggling over top dollar for aborted baby body parts and its paranoia that word of their grisly side business trafficking human baby remains could leak out and "destroy" them.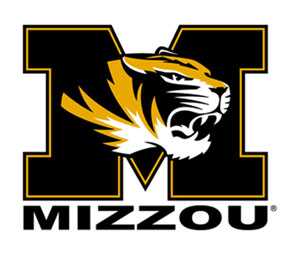 The grilling that Mizzou's Chancellor, R. Bowen Loftin, received during a hearing of the Missouri Senate Interim Committee on the Sanctity of Life last month likely prodded the publicly-funded university to recently terminate ten contracts with Planned Parenthood affecting four states.
However, the most important connection — the "refer and follow" privileges granted to St. Louis abortionist Colleen McNicholas that enables Planned Parenthood in Columbia to conduct abortions — was inexplicably left in place.
Without the specious "refer and follow" privileges granted by the University of Missouri to McNicholas, Planned Parenthood in Columbia could not do abortions at all, making Mizzou a critically important accomplice in the commission of abortions at Planned Parenthood's Columbia facility.
"The entire process of granting McNicholas spurious hospital 'privileges' that do not allow her to even touch a patient has been improper from the start," said Operation Rescue President Troy Newman. "Two things need to happen immediately. First, Missouri University must revoke this bogus agreement with McNicholas and get completely out of the abortion business. Secondly, the Department of Health should revoke Planned Parenthood's ambulatory surgical license and halt abortions in that the Columbia facility."
During last month's committee hearing, it was revealed that University of Missouri Assistant Teaching Professor, Kristin Metcalf-Wilson, who also worked at Planned Parenthood in Columbia as a nurse, improperly recruited McNicholas to provide abortions at the Columbia facility.
Metcalf-Wilson then shepherded McNicholas through the system at Mizzou in order to obtain hospital privileges so that the Columbia clinic could qualify for licensing as an ambulatory surgical center abortion clinic and begin offering abortions.
But instead of obtaining the required hospital privileges, Metcalf-Wilson and others facilitated the issuance of rare "refer and follow" privileges only. This means that McNicholas has no right to admit or treat any patients at MU hospital, but she does have the ability to "refer" a patient there and obtain updates on her care.
Currently the Columbia Planned Parenthood offers only medication abortions, but has indicated it has plans to expand services to include surgical abortions in early 2016.
Mizzou representatives say that McNicholas has not yet used her "refer and follow" privileges, but that is not surprising.
For most Planned Parenthood clinics that offer only medication abortions, they have no capacity to treat women suffering complications such as incomplete abortions and hemorrhaging. Their emergency plan is to tell the woman to call 911 or make her own way to a hospital emergency room and expect hospital staff to provide care that Planned Parenthood abortionist either can't or won't provide. This kind of patient dumping represents substandard care for women, who can experience delays in treatment because of this practice.
"We are asking those concerned about this shoddy arrangement between tax-funded Mizzou and Planned Parenthood to voice those concerns to Chancellor Loftin and to DHSS head Gail Vasterling," said Newman. "They need to know that the public is watching and that we, as tax-payers, will not stand for the sleazy dealings that took place that are enabling abortions at Planned Parenthood's unqualified facility today."
Read background article for more information.
Contact:
Missouri University Chancellor R. Bowen Loftin
Phone: 573-882-3387
Email: Chancellor_Office@missouri.edu
Gail Vasterling, Director, Missouri Department of Health and Senior Services (DHSS)
Phone: (573) 751-6001
E-mail: info@health.mo.gov