UPDATE: On Tuesday (Jan. 26, 2016), Missouri Attorney General Chris Koster's office filed an appeal to the 8th U.S. Circuit Court of Appeals of federal district Judge Laughery's ruling last month, which had prohibited state health officials from revoking Planned Parenthood of Columbia's abortion clinic license. We will watch this as it progresses through the legal system. Please use the e-mail below to thank AG Koster for defending the rule of law in Missouri! Thank you!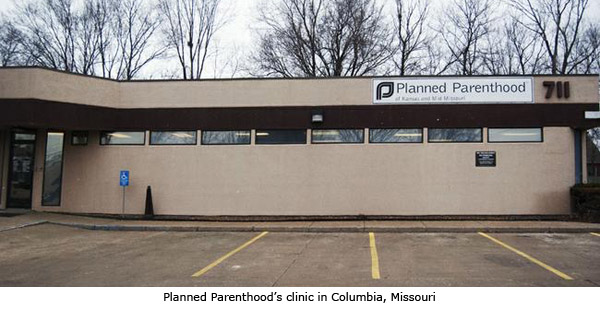 By Cheryl Sullenger
Jefferson City, MO — Why would a Federal Court involve itself in the regulatory matters of a Midwestern state health agency? It's because the matter of abortion is involved.
"We call it the 'Abortion Distortion,'" said Operation Rescue President Troy Newman. "Whenever abortion is involved, you can expect nothing to be business as usual — except for the business of killing babies."
Now, the people of Missouri are working to restore the rule of law in their state.
Pro-life groups have banded together with the #MOSaysNO petition effort demanding that Missouri Attorney General Chris Koster appeal the December 28, 2015, Federal Court ruling that is subverting Missouri law and creating conditions where Planned Parenthood could continue abortions in Columbia even though it cannot meet legal requirements to do so.
It started when the Missouri Senate Interim Committee on the Sanctity of Life, headed up by Committee Chairman Sen. Kurt Schaefer, was tasked last summer to investigate allegations of criminal conduct on the part of Planned Parenthood. During hearings held in August, it was discovered that the publicly-funded Missouri University had been illegally assisting Planned Parenthood in Columbia in restoring abortion services there.
University of Missouri Assistant Teaching Professor, Kristin Metcalf-Wilson, secretly recruited abortionist Colleen McNicholas to provide abortion medication at Planned Parenthood's Columbia office, but hurdles had to be overcome. McNicholas did not qualify for local hospital privileges required by the state before a facility could be licensed or abortions could be performed.
Planned Parenthood and Metcalf-Wilson conspired to provide McNicholas with inadequate "refer and follow" privileges at University Hospital in Columbia. Those bogus "privileges," which prevented McNicholas from even touching a hospitalized patient, were then falsely passed off by Planned Parenthood as full staff privileges in an application for an abortion facility license with the Missouri Department of Health and Senior Services, which accepted them as fulfilling the requirement for licensure.
Once Schaffer's committee uncovered the fraud, Missouri terminated McNicholas' so-called privileges. This stopped Planned Parenthood from selling any more abortion pills and it also should have terminated its abortion facility license – that is, if state law had been followed.
Planned Parenthood filed suit in Federal Court and persuaded U.S. District Court Judge Nanette Laughrey to block the state from following their own regulations that would require it to revoke the Columbia Planned Parenthood's abortion facility license since the clinic cannot meet minimum requirements outlined in the law.
Laura McQuade, CEO of Planned Parenthood of Kansas and Mid-Missouri, which operates the Columbia site, issued a letter last week jubilantly calling the ruling "a huge victory for PPKM and reproductive rights in Missouri!"
But the fact remains that the Columbia Planned Parenthood facility has more to worry about than it has to celebrate.
"Planned Parenthood was allowed to keep an abortion clinic license that was issued on false pretenses. Now, Planned Parenthood cannot meet the state requirements for licensure because it does not have an abortionist on staff with legitimate hospital privileges and its facility is substandard. The Federal Court is making a farce out of Missouri law, and that is placing women's lives and health at risk," said Newman. "That is why the Attorney General needs to appeal the Federal Court ruling. Once that is cleared up, the Columbia Planned Parenthood will have a hard time staying in business."
Operation Rescue is supporting the #MOSaysNO petition and is urging pro-life supporters everywhere to send a strong message to Attorney General Chris Koster and Planned Parenthood that state laws meant to protect women and babies from harm and exploitation must be respected, upheld, and enforced.
Get the #MOSaysNo Petition and pass it on.
Print, sign, scan and e-mail to: attorney.general@ago.mo.gov
(Or feel free to e-mail the Attorney General your own sentiments.)
Snail-mail petition to:
Attorney General Chris Koster
Supreme Court Building
207 W. High St.
P.O. Box 899
Jefferson City, MO 65102
Get ideas for social media postings.