By Cheryl Sullenger
St. Joseph, MO – A statement released last week by the new head of the Missouri Department of Heath and Senior Services indicates that abortion businesses in Missouri broke state law without consequences over a long period of several years.
Dr. Randall W. Williams stated in a May 31, 2017, news release that a law has been on the books since 1979, which required abortion facilities to report all complications to abortions, has been completely ignored over several previous administrations.
"This is unacceptable," Williams said. "As soon as I became aware of this problem, the Department of Health and Senior Services took steps to ensure future compliance with the law and understanding of the importance of these reports."
He noted that his department "will rigorously enforce this law in the future."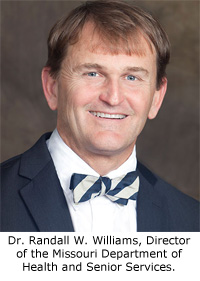 Dr. Williams, a board-certified obstetrician and gynecologist who practiced for 30 years, as reason to be concerned that there has been no reporting of abortion complications.
The lone abortion facility in Missouri is a Planned Parenthood center in St. Louis where 65 medical emergencies have been documented by Operation Rescue, with the help of local pro-life activists, since 2009. That includes two emergencies this year on March 11 and March 24.
"We had to sue to get the public information about abortion complications at the St. Louis Planned Parenthood. Without that case, the public would have no idea how dangerous the Planned Parenthood abortion facility really is," said Troy Newman, President of Operation Rescue. "We are grateful that there is finally a Director of the Department of Health that takes the law and women's safety seriously."
A 2016 State Senate investigation of abortion practices and fetal tissue disposal at Planned Parenthood led by Sen. Kurt Schaefer encountered "stonewalling" by Planned Parenthood and "top officials in [former] Gov. Nixon's Department of Health and Senior Services."
Sen. Schaefer's investigative committee discovered that the St. Louis Planned Parenthood has written protocols for employees to follow in the event of a medical emergency that included requesting ambulances run with no lights or sirens even though it would delay emergency care for their patients.
In addition, Planned Parenthood trained employees to only give very general information to 911 dispatchers, and never mention whether a complication is abortion-related. Employees are instructed to keep emergency responders out of the abortion procedure room (unless necessary).
In the event that an abortion patient experiences a medical emergency after she left the Planned Parenthood facility, she is told to call Planned Parenthood instead of 911.
In a scathing report released in July 2016, the State Senate investigative committee stated:
This level of callous disregard by PPSLR for the safety of women seeking their services in an apparent effort to protect their own business model from being damaged by news of "botched abortions" and patients ending up in the ER is shocking. This kind of deliberate organizational effort to steer patients away from emergency medical treatment may very well constitute medical malpractice and reckless endangerment of the health of patients.
Meanwhile, the Department of Health and Senior Services under Dr. Williams' predecessor, Gail Vasterling, allowed the St. Louis Planned Parenthood to continue operating despite eight years of failed safety inspections that revealed 39 classes of violations involving 210 incidents – 53% (111) of which were related to failure to provide a safe and sanitary environment.
"We hope Dr. Williams will do his duty to not only enforce the abortion complication reporting law, but also take seriously patient care and facility standards with which Planned Parenthood has repeatedly failed to comply," said Newman. "The St. Louis Planned Parenthood has arrogantly broken the law for years without consequence. It is such an egregious offender that it is in the interest of public health and safety to shut it down. We urge Dr. Williams to do just that."
Below is Dr. Williams full press statement dated May 31, 2017:
Statement from the Director of the Missouri Department of Health and Senior Services
Since 1979, Missouri law has required providers of abortion services and those who treat abortion complications to report every complication they diagnose or treat after an abortion to the Department of Health and Senior Services within 45 days.
It has recently come to my attention that this law was not complied with under previous administrations.
This is unacceptable.
As soon as I became aware of this problem, the Department of Health and Senior Services took steps to ensure future compliance with the law and understanding of the importance of these reports.
As a board-certified obstetrician and gynecologist who practiced for 30 years, I recognize that every procedure including abortion has recognized risks and potential complications. By the standard of care, these risks should be discussed with the patient prior to the procedure. And when the law requires complications to be reported, each and every complication should be reported.
The Department of Health and Senior Services will rigorously enforce this law in the future.
Randall W. Williams, MD, FACOG