By Cheryl Sullenger
Jackson, MS — Fighting to maintain the right to protect the health and safety of its citizens, Mississippi Attorney General Jim Hood has filed a Petition for a Writ of Certiorari with the United States Supreme Court seeking to overturn a "confusing and inconsistent" Fifth Circuit decision that effectively placed the last abortion clinic in Mississippi "beyond the regulatory reach of the state."
"We know all too well what happens when abortion facilities are left unaccountable. We end up with the likes of Kermit Gosnell. When abortion clinics are held above the law, women are the ones who suffer when they are subjected to increasingly degrading conditions and shoddy procedures," said Troy Newman, President of Operation Rescue. "If anyone thinks that's just exaggerated rhetoric, we have the documentation to prove that this is an unfortunate fact within the abortion cartel today."
At issue is a 2012 law, HB 1390, which requires abortionists to maintain hospital privileges within thirty miles of the facility where abortions take place.
Mississippi's last remaining abortion clinic, the Jackson Women's Health Organization (JWHO), sued to block the law when its two out-of-state abortionists, Willie Parker and Bruce Elliott Norman, failed to qualify for hospital privileges. Norman is referred to in the court proceedings only as "Dr. Doe."
Norman, a long-time affiliate of JWHO owner Diane Derzis, does the majority of abortions her "Pepto-Pink" Jackson, Mississippi, clinic located in the heart of the state. Their history together is worth noting.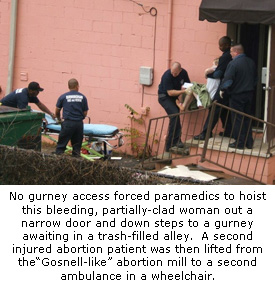 Norman has injured several women during abortions during his checkered career, including three women in one day at a Birmingham, Alabama, abortion mill, also owned by Derzis. That incident was documented by pro-life activists. Operation Rescue, CEC for Life, and Life Legal Defense Foundation worked to file complaints that resulted in the discovery of 76 pages of health and safety violations that resulted in the closure of the Birmingham facility. The Alabama Department of Health ordered the clinic closed.
However, in defiance, Derzis and Norman illegally reopened their Birmingham clinic, claiming it was a "doctor's office" that was not subject to state licensing requirements. Again, Operation Rescue, CEC for Life, and Life Legal Defense Foundation documented their illegal operations and persuaded the Alabama State Department of Health to step in. The ADPH sued Derzis and Norman for violating their shut-down order and eventually closed them permanently. A judge issued a permanent injunction barring abortionist Norman from operating an abortion clinic in Alabama.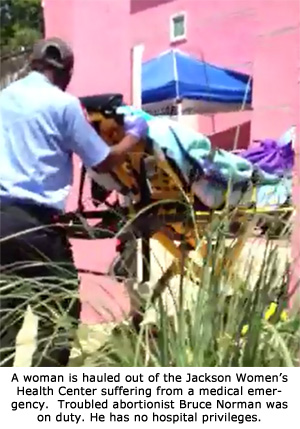 Meanwhile, back in Mississippi, Norman continued his pattern of abortion injuries. He seriously botched an abortion at Jackson Women's Health Organization on August 18, 2013, sending yet another woman to the hospital where he holds no privileges. It is doubtful if the hospital was ever alerted that the patient was on the way, leaving ER staff completely unprepared and in the dark.
Inexplicably, the courts ruled in Derzis' favor and blocked Mississippi from enforcing the hospital privilege requirement, primarily because it would close the last abortion facility in that state. In fact, the Fifth Circuit opinion admitted that if there were other abortion facilities in Mississippi, HB 1390 would likely have been upheld.
Attorney General Hood's petition to the U.S. Supreme Court takes umbrage with the Fifth Circuit's finding that closing of the Jackson Women's Health Organization would cause an undue burden on women since women would have to cross state lines to obtain abortions.
Hood's petition noted that 60% of Mississippi women who receive abortions now voluntarily travel to abortion facilities in neighboring states that are actually geographically closer to them than the Jackson Women's Health Organization.
The petition states that in light of "highly publicized" abortion injuries and in an effort to meet "high professional standards promoting continuity of surgical care for women" the State of Mississippi enacted HB 1390, which provided that each abortionist operating in that state must maintain hospital privileges within 30 miles of the facility where abortions occur.
In fact, the bill was the brain child of Operation Rescue's Troy Newman, whose group documents abuses and injuries at abortion facilities nationwide. Understanding the dangers of Derzis' Mississippi abortion business, he discussed the prospect of passing a local hospital privilege requirement in that in early 2012 with Terri Herring of the Pro-Life America Network. Herring picked up the ball and ran with it, and HB 1390 was signed into law in April of that same year with the hope that women would then be protected from Derzis' substandard operations and Norman's shoddy abortion practices.
Hood also took issue with the Fifth Circuit ruling exempting JWHO from state oversight and outside the state's authority to regulate. That has provided JWHO with a special status over other Ambulatory Surgical Facilities in the state where all doctors have been required to maintain hospital privileges for years. In fact, Hood states that by enacting HB 1390, the State was trying to "even the playing field" and treat abortion clinics the same as it does all other similarly situated clinics.
"We've seen what happens when states fail to exercise oversight of abortion clinics, and it isn't pretty," said Newman. "We are encouraged that in Mississippi, they are fighting to protect women from the kinds of abuses we have seen over the years in places were abortion clinic operate without accountability."
The most obvious example is Pennsylvania case of Kermit Gosnell, whose clinic deteriorated into squalor due to an absence of oversight. There, babies that were born alive during failed abortions were intentionally murdered and women were drugged into stupors by unqualified workers, including a high school student, until one patient finally was killed.
Less well known was a chain of eleven abortion clinics operated in Southern California by owner Bertha Bugarin, where there were essentially no regulatory oversight or standards for abortion businesses whatsoever. Bugarin employed bottom-of-the-barrel abortionists and unlicensed workers who were so incompetent that one by one their medical licenses were revoked after a series of botched abortions, abortion deaths, and criminal fraud. Not to be deterred, when Bugarin ran low on licensed abortionists she and her sister began doing the abortions themselves, even though neither of them had any medical background or training.
Operation Rescue drew this shoddy chain of abortion mills to the attention of the police, who raided Bugarin's abortion mills and arrested her, her sister, and two other employees for illegal abortion. Bugarin was sentenced to nearly 7 years behind bars and her abortion chain was disbanded.
"If Kermit Gosnell or Bertha Bugarin operated the last abortion clinic in Mississippi, the Fifth Circuit ruling would provide protections for them to continue their obscene practices, and there would be nothing that the State authorities could do about it," said Newman. "The U.S. Supreme Court needs to hear this case in order to reaffirm the state's authority to protect women from predatory and substandard practices."
Since similar hospital privilege requirements have been enacted in several other states, this case has the potential to dramatically impact abortion law in the U.S. Because of that, those on both sides of the abortion issue will be watching this case closely.
– Read Petition for Wit of Certiorari, Currier v. Jackson Women's Health Organization
– Background: Who is Dr. Doe?