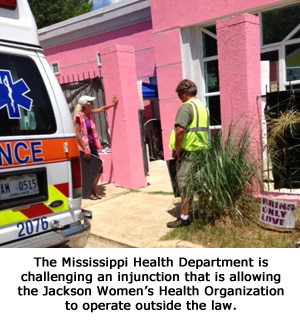 Jackson, MS – Not willing to wait for seven more months to protect women, the Mississippi Department of Health has filed an appeal to the court injunction that is currently barring it from enforcing an abortion law that would close the last remaining abortion clinic, Jackson Women's Health Organization (JWHO).
"In light of a medical emergency that landed an abortion patient in the hospital on August 7, we are relieved to hear that the State of Mississippi is moving swiftly to protect women from a shoddy abortion business that is out of compliance with the law," said Troy Newman, President of Operation Rescue.
The appeal, filed on August 23, will seek to set aside an injunction put in place by U.S. District Judge Daniel P. Jordan III last April that blocks the state from enforcing a law that requires abortionists to maintain hospital privileges within 30 miles of their abortion clinics. JWCO employs out-of-state abortionists whose applications for privileges have been rejected by local hospital for liability reasons. Because the abortionists leave the state after their abortion shifts, they are not available to provide continuity of care for patients experiencing complications, such as occurred earlier this month. This poses a safety hazard to women.
The lawsuit filed by JWHO against the hospital privilege requirement is set for trial on March 3, 2014.
Meanwhile, four Mississippi pro-life groups have released a letter sent to the Mississippi Health Department demanding an investigation of the JWHO, which they say is in non-compliance with existing state laws related to abortion reporting.
"In what appears to be a blatant disregard for reporting laws of the State of MS JWHO has failed to report its RU486 abortions as such since 2005. Further, JWHO has apparently not determined or reported the gestational age of babies 3,070 abortion cases (925 reported under the existing owner Diane Derzis and Dr. Bruce Norman)," stated an August 20, 2013 letter signed by Dana Chisholm of Pro-Life Mississippi; Beverly McMillan, Physicians for Life Mississippi; Barbara Whitehead, Mississippi Right to Life; and Terri Herring, ProLife Action Network.
Documentation that accompanied the letter indicates that no medication abortions have been reported in the past eight years, yet JWCO's web site indicated that medication abortions using "RU486/Mifepristone" are available for a fee of $550. The allegation of non-reporting of gestational ages was also supported with documentation.
Derzis' abortion businesses have a history of botched abortions resulting in emergency hospitalization and health and safety code violations. One of her abortion clinics in Birmingham, Alabama, where abortionist Bruce Norman also works, was ordered to close by court order on August 8, 2013, after pro-life organizations, including Operation Rescue and CEC For Life, documented that it was operating illegally without a license. That same clinic had earlier been closed by the state last year after 76-pages of safety deficiencies were documented, many of which were chronic offenses. Nevertheless, Derzis illegally reopened it despite that order and two failed attempts to relicense the clinic.
"It is clear that Derzis is defiantly operating her shoddy abortion clinics outside the law. Her attitude that she does not need to meet safety standards, licensure requirements, or any other applicable law proves that she poses a grave danger to the public," said Newman. "Women who are preyed upon by Derzis' unscrupulous abortion business need immediate protection from injury and exploitation."
No hearing date has yet been set on the Health Department's appeal.